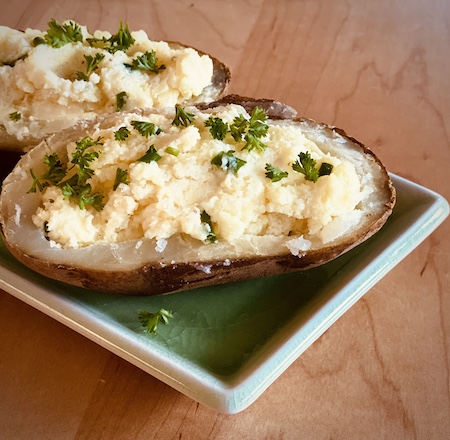 Twice Baked Potatoes
INGREDIENTS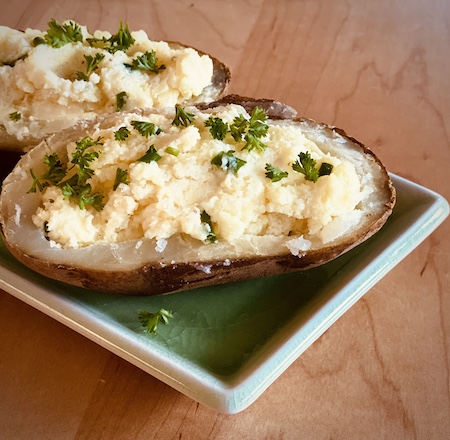 4 (appx 8-ounce) Russet Potatoes
1 tablespoon Olive oil
Salt and freshly ground Black Pepper
2 tsp Garlic Powder
1 teaspoon DSF Mustard
1/2 teaspoon Onion Powder
⅛ tsp Cayenne
½ cup Manchego (alt. cheddar or other hard cheese) grated, divided in 2
2 ounces Cream Cheese, cut into cubes
½ cup Sour Cream
¼ cup Milk, warmed
2 strips Bacon, cooked and crumbled for garnish (OPTIONAL)
1 Tbsp Chives, chopped
DIRECTIONS
Preheat the oven to 400° F. Wash and dry the potatoes. Prick lightly with a fork and rub oil on the skin. Wrap individually in foil and place on a baking sheet in the oven once it's heated.
Bake for 45-50 minutes, until tender.
Revove from oven and allow to cool.
Reduce heat of oven to 375° F.
Separately, in a large bowl, combine the garlic and onion powder, DSF mustard, cayenne, ½ the cheese, cream cheese, sour cream and 1 teaspoon salt.
Slice a 1/4-inch "lid" off of each potato lengthwise. Using a knife cut a grid into the potatoes, and slide around the edges of the inside before scooping. With a spoon, scoop out the insides and leave about a 1/8-inch thick rim around the inside of the potato halves to keep them sturdy. Scrape the little bit of flesh still attached to the "lid" you sliced off and discard the leftover skin. Place the hollowed potatoes back on the baking sheet.
In a separate bowl mash the potatoes flesh until smooth and then add to the bowl with other ingredients. Mash together and slowly stir in the warmed milk. Taste and season with salt and pepper, if needed. Scoop this mixture back into the empty potato skins, sprinkle with the remaining remaining cheese evenly over the tops and return the potatoes to the oven to bake until the tops are golden brown, 20 to 25 minutes.
Remove from the oven and sprinkle with bacon bits, if using.