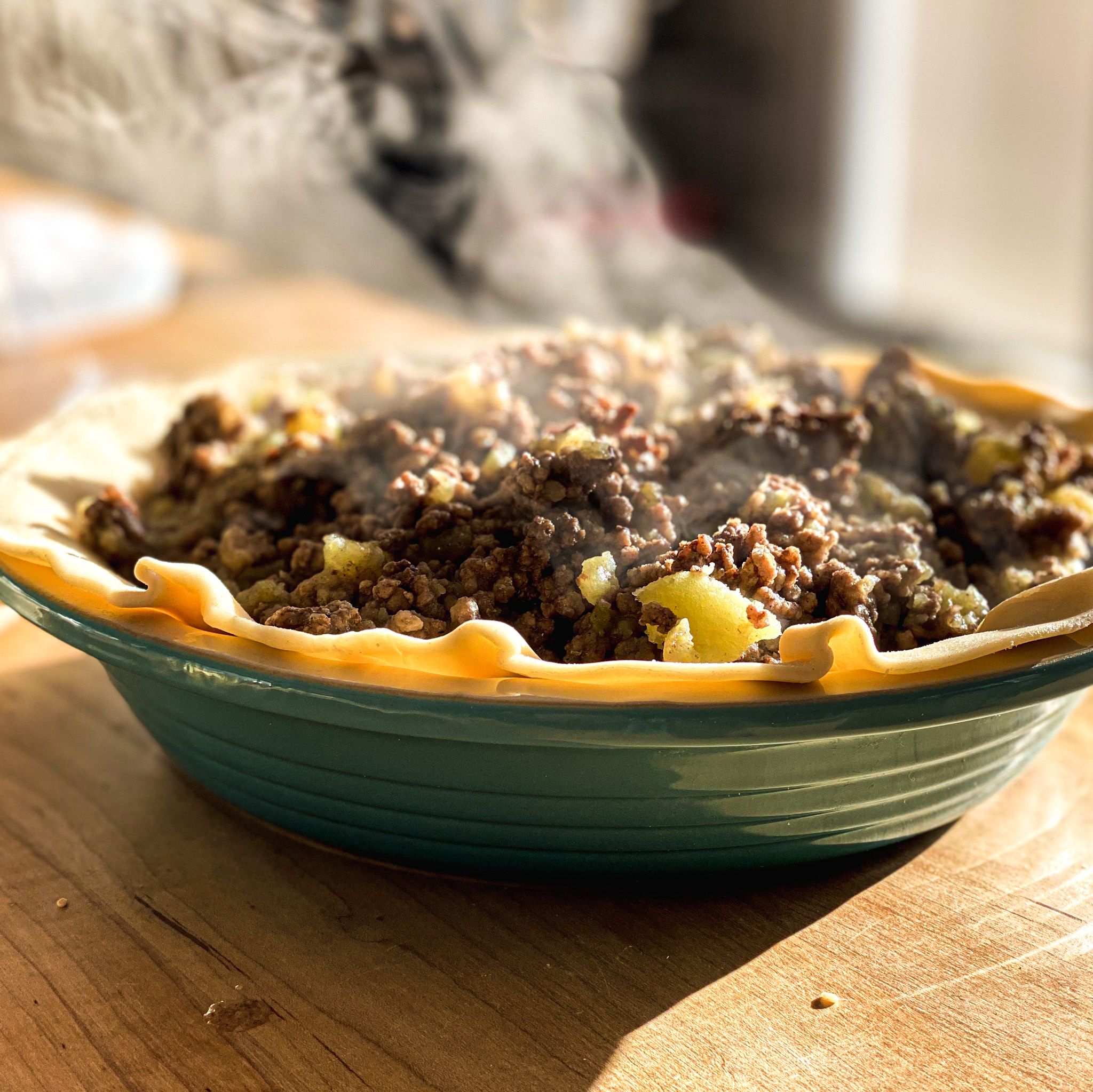 Tourtiére
Tourtiére is one of those dishes you can make in advance and have all tidied up so there is no need to fuss over it when the company arrives. And there's something wonderfully Canadian about serving this spiced meat pie that dates back to when Quebec was first settled. You can even make a few in advance and freeze them for a later date.
INGREDIENTS
Dough for 2 Standard Pie Crusts,

not pre-baked

/ either store-bought refrigerated or homemade)
2 Large Potatoes, either Yukon Gold or Russet work well
1 Tbsp Canola or Avocado Oil (or Olive oil with a light flavour also works)
1 Onion, chopped finely
1 Clove of Garlic, minced or finely chopped
454 Ground Pork
454 Lean Ground Beef
1 ½ tsp Lucky Spice
½ tsp Maggi Seasoning
Salt and ground Black Pepper to taste
Egg Wash for pastry top (1 egg mixed with 1 TBSP of cream or milk)
DIRECTIONS
Preheat your oven to 400°. Peel, cut and boil the potatoes until fork-tender. Drain and reserve ½ cup of the boiled-potato water. Mash the potatoes and set aside.
In a large skillet on medium heat, saute the onions and garlic in the oil for about 4 minutes, then add both types of ground meat. Break up any large chunks while it cooks. Once it's fully cooked (no longer any pink meat), drain off excess fat.
Add the seasonings – Lucky Spice, Maggi and salt and pepper. Add mashed potatoes and stir. Check for seasoning, and add a bit more salt and pepper or Lucky Spice as needed.
Assemble the pie with one pie crust on the pie plate, add the meat and potatoes mixture, and top with the second pie crust, folding the top crust under the bottom one and pinching or fluting the edges. Brush the top with the egg wash, and cut vent holes. Bake for 30 – 35 minutes or until the pastry is golden brown.
Remove from oven and allow to cool for 10 minutes. Serve warm.
If you are looking for a delicious salad with this recipe, try the Babby Green with Spiced Pecans in an Apple Cider Vinaigrette.