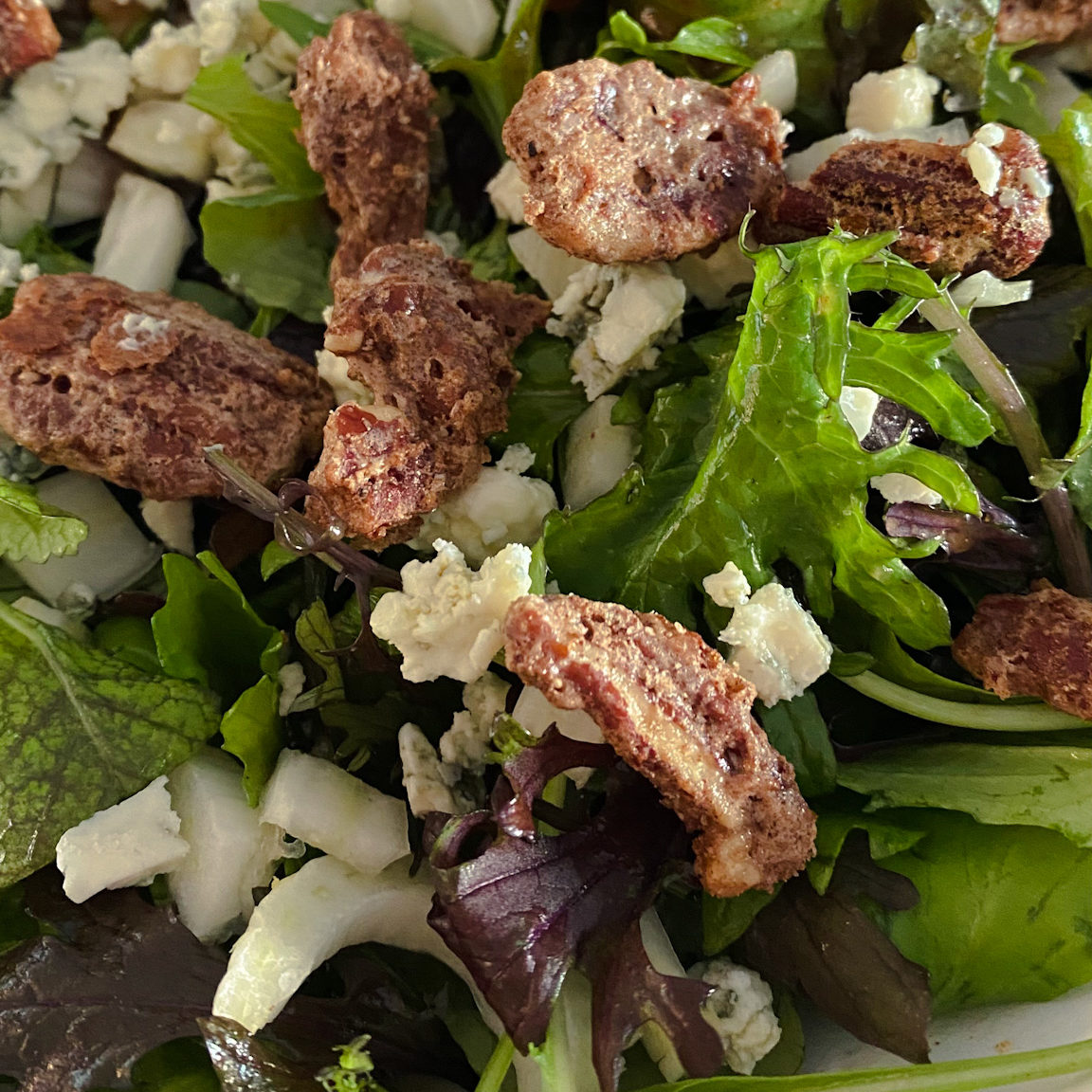 Baby Greens with Spiced Pecans in an Apple Cider Dressing (topped with Blue Cheese)
Apple cider, Granny Smith apples and chopped fennel make this the quintessentially autumnal flavour profile. And while salad is rarely something you'd consider decadent, there isn't really any other way to describe this combination.
INGREDIENTS – WARMED CIDER DRESSING
2 Cups of Apple Cider, boiled to reduce to ½ cup
⅓ Cup Olive Oil
4- 5 Shallots, chopped finely
1 Tbsp Butter, unsalted
1 ½ tsp Honey, liquid or melted
1 ½ tsp Lucky Spice
½ tsp Dijon Mustard
Salt and Pepper, to taste.
INGREDIENTS – SALAD
5 Cups of Mied Baby Salad Greens
2 Granny Smith Apples, cored and cut (wedges, cubes or thin slices work well
1 Fennel, cut into small pieces
⅓ Cup Blue Cheese, crumbled
DIRECTIONS -WARMED CIDER DRESSING
Boil your apple cider to a reduction of a ½ cup and set aside
Melt the butter on a medium heat and add the shallots. Cook until softened. (about 5 minutes)
Add the honey, Lucky Spice and Dijon mustard and whisk it together. Slowly add the cider reduction and continue to whisk.
Add the olive oil, stiring and season to taste. (Can be made in advance. Warm before using.)
DIRECTIONS – SALAD ASSEMBLY
Toss the baby greens and plate, topping each plate with apples, fennel, cheese and nuts.