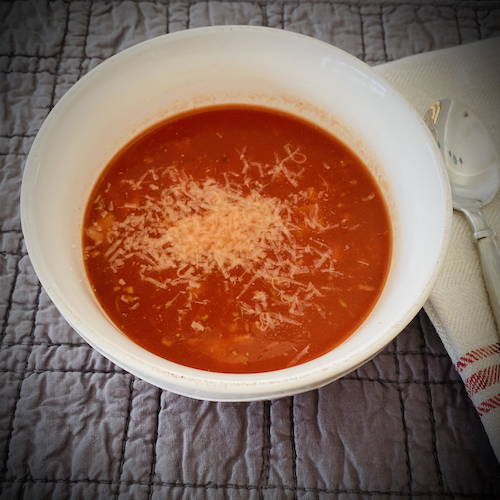 Tomato, ham & fennel soup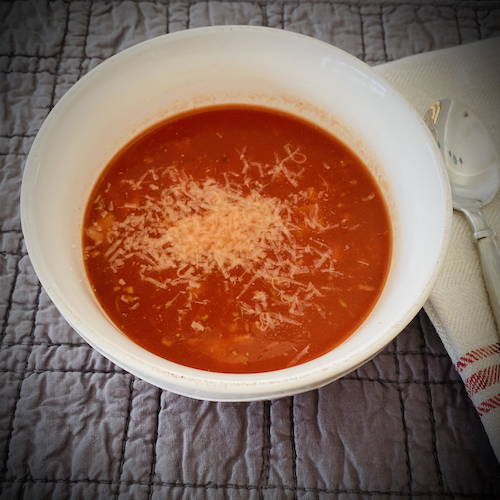 Do you have leftovers from your roast of ham or turkey, a can of crushed tomatoes and some bit of left over vegies? Then you are in business!This soup recipe is totally forgiving with respect to the various ingredients you can include so it's a perfect way to not waste leftover veggies and meat. (It works well with both turkey and ham!)
Prep time – 5 to 10 minutes
Cooking time – 12 minutes
INGREDIENTS
¾ Cup (or more) of leftover Ham (or Turkey)
1 Can Crushed Tomatoes
1 packet of Chicken or Vegetable broth (and water)
1 tsp Fennel Seed
1 tsp sugar
½ tsp salt
1 clove of garlic, minced
1 tsp onion powder
2 C Mixed veggies (Fennel bulb, celery, onion, Chopped kale, chopped carrots)
1 C White beans
Pepper to taste
Grated Pecorino or other cheese
DIRECTIONS
In a mid-sized pot, add a bit of oil and saute any raw veggies together with the garlic.
In a mortar & pestle (or another type of spice grinder) grind fennel seed together with salt and sugar. Add to veggies, along with onion powder and mix.
Add the tin of crushed tomatoes, meat, chicken broth, white beans and water. Stir well.
Heat for 10 – 12 minutes until hot throughout. Serve hot with fresh pepper and a bit of grated cheese.