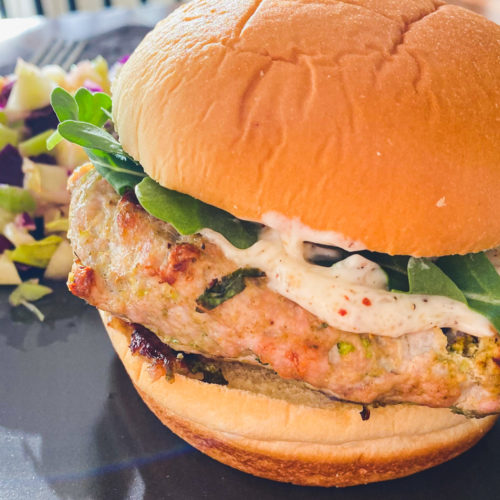 Thai-Spiced Pork Burger w/Lime Pepper Mayo
Any light ground meat (or meat substitute) lends well to the tropical flavour combo. Try it with lean ground pork, chicken or turkey. Or even with white fish for a fish-cake style burger. Make them full-size to serve as a main or mini-version as sliders or canepés.
Add the Lime Pepper and some Chilli Flakes to your favourite mayo, along with cilantro or arugula to serve.
INGREDIENTS – BURGERS
454 g of Lean Pork, Chicken, Turkey, Fish or Plant-Based Meat alternative (ground)
3 tsp Fish Sauce (soya sauce if plant-based)
2 tsp The Spice Who Loved Me
1 tsp Ginger, freshly grated
1 tsp Salt
½ tsp Chile Flakes
2 Green Onions, or 1 stalk of Celery, chopped finely *Optional
1 1/2 TBSP Sunflower Oil (if doing in the frying pan)
(If using fish, depending on the type, you may want to add a binder such as egg whites and breadcrumbs, or ground shrimp or a little bit of mayonnaise.)
INGREDIENTS – SAUCE
2 Tbsp Mayonaise
2 tsp Cilantro, finely chopped *Optional
⅛ tsp Lime Pepper (Add a bit more for a tangier option)
2 Pinches of Crushed Chile Flakes
DIRECTIONS
Mix the ingredients for the sauce together and set it aside, keeping it cool in the fridge. (The flavours are better if they have a little time to blend.)
Mix all the ingredients (except the oil) together by hand, then shape into burgers, sliders or bite-sized cakes.
Cook on the stove-top or grill until fully cooked (Ideal temperature varies depending on the meat – for pork is 160° / poultry 165° / fish 155°
Serve on a bun with sauce.
This recipe combines well with Smashed Cucumber Salad, Cole Slaw or fries dusted with Lime Pepper.