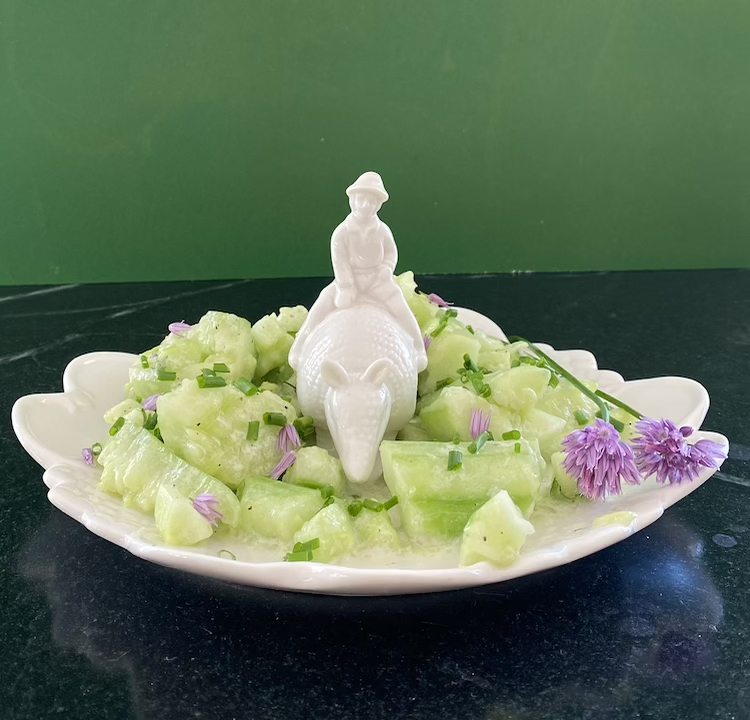 Smashed Cucumber Salad with Lime Pepper
Perfect for a hot summer day, this is a deliciously refreshing snack or side dish. Serve with cottage cheese and lettuce wraps for something light. Or add avocado and a can of tuna for something more substantial.
Serves 2
Prep time – 10 mins
Total – 10 mins
Ingredients
2 large English cucumbers or 6-8 mini cucumbers
1 tsp lime pepper
½ tsp sugar
1 tbsp rice vinegar
2 tsp chopped chives
1 tbsp toasted sesame oil
1 tsp soy sauce
1 tsp honey
1 clove of minced garlic
1 pinch of crushed red chile flakes
1 chive blossom, as garnish (optional)
Directions
Cut the cucumbers into mid sized sections and place them into a jar, ziplock or between two pieces of Saran wrap (to avoid making a mess) and use a meat tenderizer (or rolling pin) to smash into small pieces.
Sprinkle with half a tsp of Lime Pepper.
Put into a strainer, and let sit for 30 minutes to remove some of the liquid.
In a small bowl, whisk together the vinegar, sesame oil, soy sauce, honey, garlic and chile flakes until combined.
Toss the cucumbers (and avocado, if using) lightly with the dressing and plate with sesame seeds (optional) and chive blossoms.