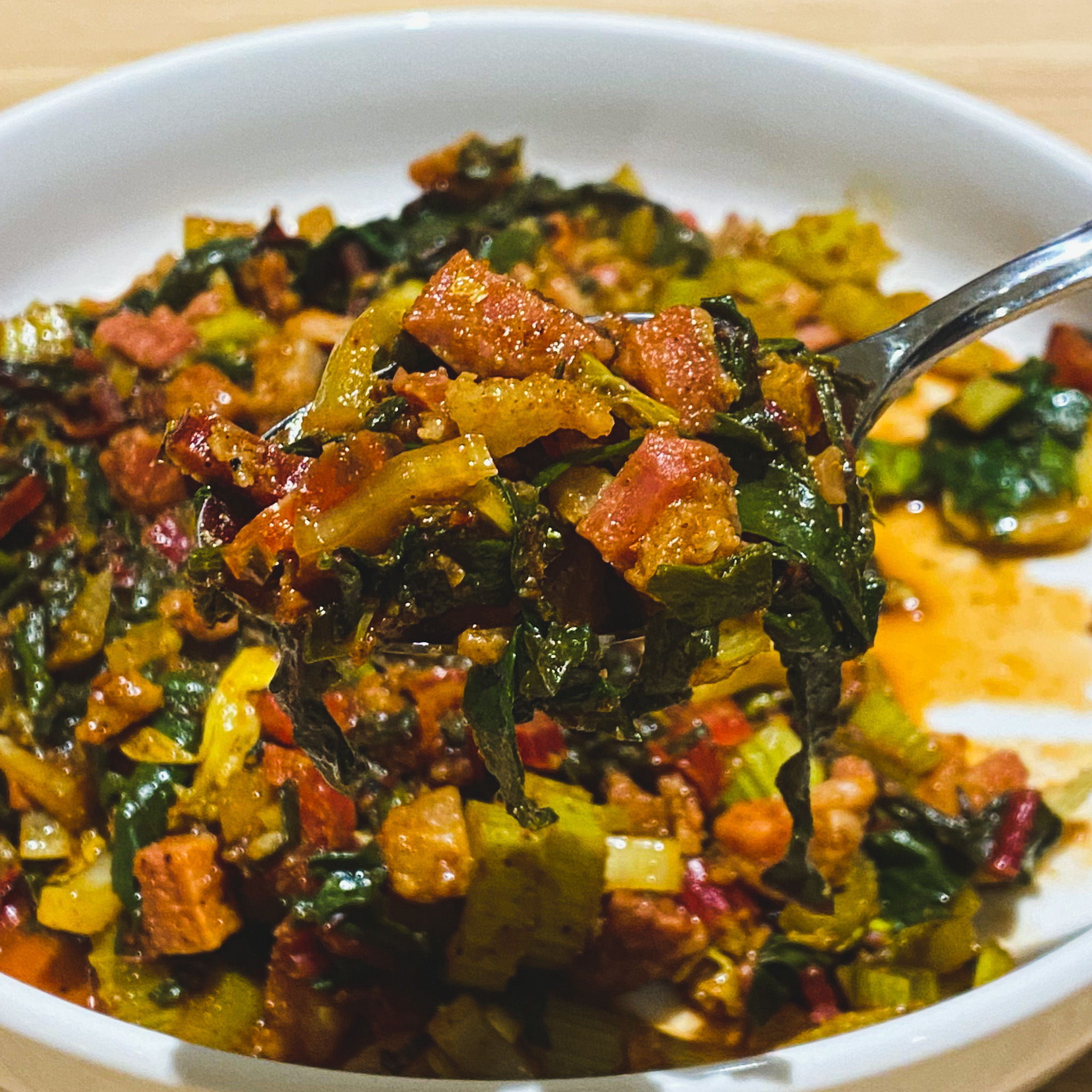 Smokey Swiss Chard with Pancetta
About a year ago, at a dinner party, a friend served cooked swiss chard. I hadn't had it in years and was gobsmacked by its deliciousness. It's a delicious and healthy dish any time of year, but it's especially tasty as a salad alternative in the winter. Plus, it makes for a versatile canvas for all kinds of seasonings, depending on the vibe you want for your meal and what other dishes you want to serve with it.
INGREDIENTS
1 bunch of Swiss Chard, washed and cut into 1 cm (+/-) ribbons (horizontally)
100 g Pancetta, cubed (Bacon or ham, cut into small pieces also works)
½ TBSP Oil (Olive or Avocado), if more oil is needed – depends on the fat from the pancetta/bacon
1 clove of crushed garlic
1 shallot, chopped finely
2 ½ tsp Maple Syrup
½ TBSP Red Wine Vinegar
Salt and pepper, to taste
DIRECTIONS
In a large skillet, on medium-high heat, cook the pancetta. Cook for 3-4 minutes, then add oil, if needed and then add the shallots, garlic and Lonestar's Leap. Mix to combine.
Add the swiss chard, maple syrup and vinegar, and gently toss to coat with the oil and seasonings. Cover and reduce heat cooking for 3-5 minutes until wilted.
Add salt and pepper, to taste if needed and serve warm.