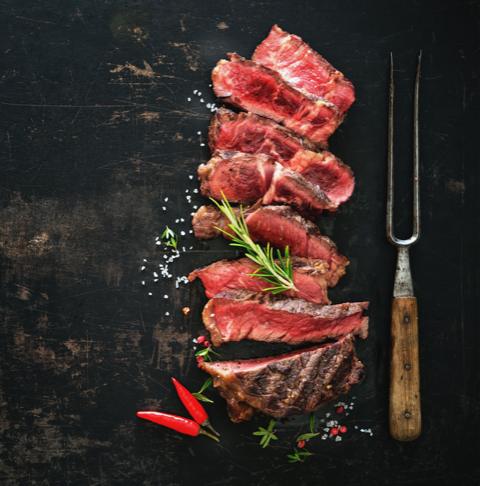 Jerk Steak with Lime-Butter Glaze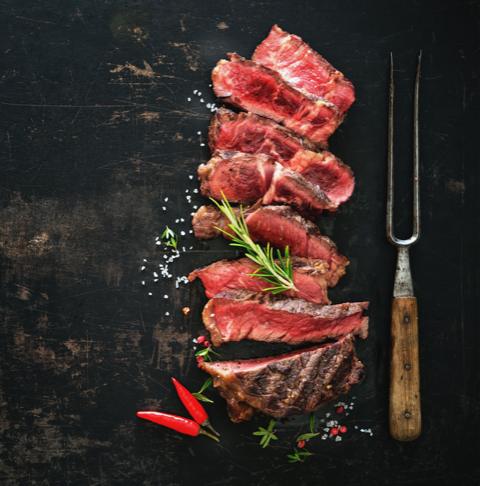 A juicy grilled steak, spiced to perfection, is what you get with this recipe. The steak marinates in lime and Offbeat Jerk before it hits the grill. You finish it off with a flavour-packed glaze that rocks your world.

Serves: 2
Time: Prep: 5 min; Marinade time: 1 – 4 hours; Cook Time: 10
Ingredients
1/3 cup fresh lime juice
4 Tbsp olive oil
3 Tbsp Offbeat Jerk blend
Salt and ground black pepper
1 1/2 pound (680 g) thick-cut, 1 ½ to 2" thick striploin steak (or any other type of steak)
Cooking spray
2 Tbsp butter, cut into small pieces
Garnish: Chopped green onions, rosemary, thyme or parsley
Lime wedges for serving
Instructions
In a small bowl, whisk together lime juice, olive oil and Offbeat Jerk. Remove and reserve 3 Tbsp of the mixture for the glaze.
Transfer the rest of the marinade to a shallow dish. Season both sides of the steak with salt and pepper and add the steak to the marinade. Marinate for up to 4 hours in the fridge. Remove and bring to room temperature 30 minutes before cooking. Remove steak from the marinade.
Pre-heat the grill for direct, high heat (450 degrees). Set steak on the grill and cook for about 4-5 minutes. Flip and cook for another 5 minutes. Check temperature with a good meat thermometer. Rare steaks should reach 125 to 130 and medium 140 to `150 degrees (the steak will continue to cook after you remove it from the heat).
Remove the steak from the grill, transfer to a cutting board and let it rest for at least 5 minutes before slicing.
Meanwhile, make the glaze by transferring the reserved 3 Tbsp of marinade to a small saucepan and set the pan over medium heat. Bring to a simmer. Whisk in butter until melted. Remove the pan from the heat. If you like wicked heat, add another Tbsp of Offbeat Jerk.
Slice the steak, across the grain, into slices. Brush the glaze all over the steak slices. Top with green onions, if using. Serve extra butter glaze and lime wedges on the side.