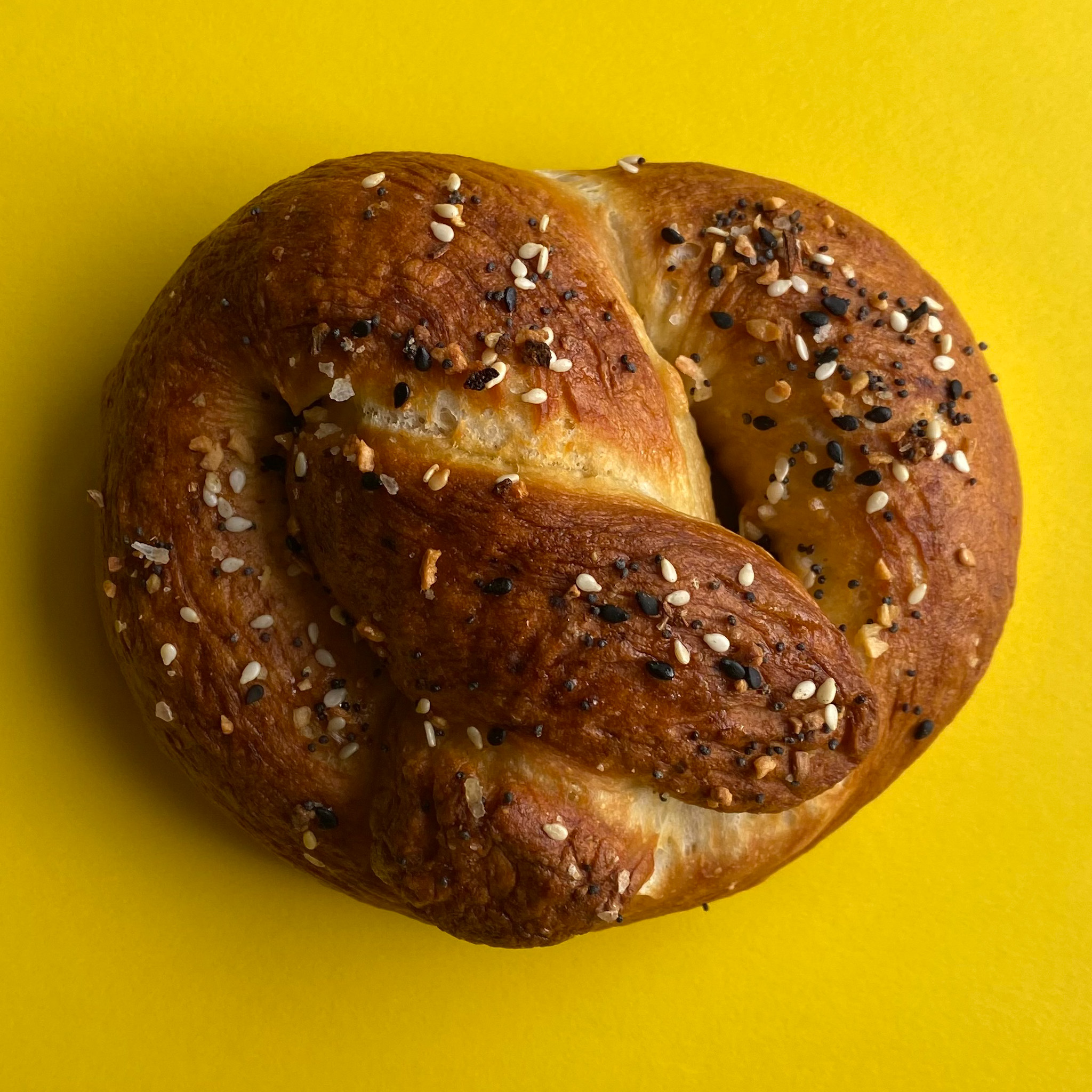 Flav-O-Matic Pretzels
Who knew that making pretzels at home was so doable?! The soft, chewy texture is thanks to the quick boil in baking soda and water. Add some Flav-O-Matic and a dip of mustard or cheesy sauce, and get ready for them to disappear.
INGREDIENTS – Pretzels
1 ½ Cup Water, Lukewarm – no need to be exact
2 ¼ tsp Instant Dry Yeast
1 tsp Salt, fine
1 TBSP Brown Sugar
1 TBSP Butter, unsalted / melted
3 3/4  Cups All-Purpose Flour
Coarse Salt and Flav-O-Matic for sprinkling on top
½ Cup Baking Soda
9 Cups Water
DIRECTIONS
Whist the yeast and the warm water together in a bowl and let stand for about 1 – 2 minutes. Add the fine salt, brown sugar and melted butter.
Add the flour in a little at a time. Use a wooden spoon (if done by hand) or a dough hook (if using a machine); continue adding the flour a little at a time and mixing until the dough becomes firm and less sticky.
Turn the dough out on a floured surface, and knead it into a round shape. Let rest, covered with either a bowl or a towel, for about 10 minutes.
Preheat the oven to 400°, and prep two baking sheets with parchment paper or a baking mat. Fill a pot with 9 cups of water, add the baking soda and heat on medium-high heat.
Cut the dough in half, and then cut each piece into three even pieces.
Roll each piece to about 40-50 cm long. Twist the top and flip it down to attach. (In case a visual example is better, here is a link)
Dunk each folded pretzel one at a time into the boiling soda bath for 40 seconds (turning at the halfway point). Using a slotted spoon, remove from the water and gift a light shake to remove any excess water. Place on the baking sheet, sprinkle with flaked salt and Flav-O-Matic. Finish all 12 in this way.
Bake for 15 minutes or until they have a deep golden colour.
Serve warm or at room temperature.