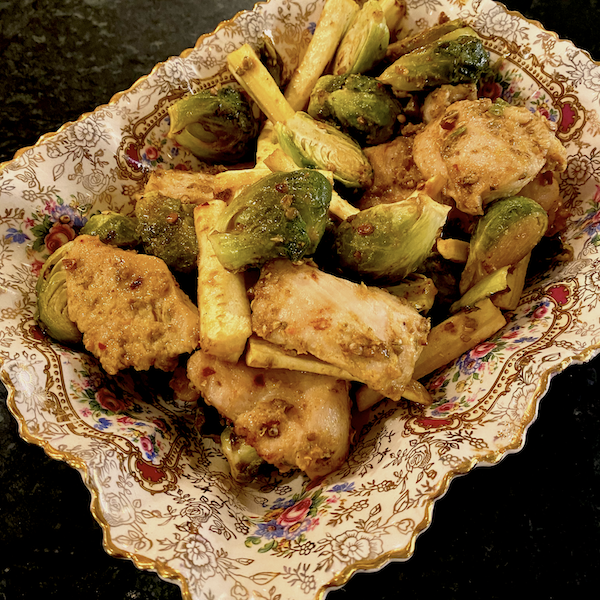 Chicken, Parsnips and Brussel Sprouts
(Sheet Pan Recipe)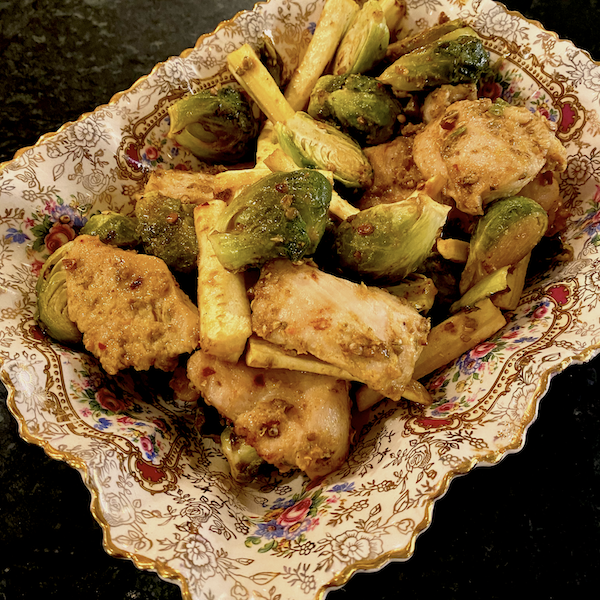 The appeal of minimal fuss, less mess and simple recipes has an appeal any time of year but seems to be extra well suited to the cooler months. There is something about having your oven on adds a certain coziness to the kitchen this time of year.
Pick your favourite cuts of either chicken or turkey for this recipe. It's flexible and the flavours of citrus, coriander and mustard are a natural combination with any poultry.
INGREDIENTS
2 1/2 Tablespoons Coriander, lightly toasted
1 ½ tsp salt
2/3 tsp Chile flakes
1 lemon (zested, and quartered – seeds removed)
4 cloves of garlic, peeled and crushed
1/3 Cup Olive oil (plus 1 Tbsp)
3 lbs / 1.3 kg of chicken (bone in) or 2 lbs / 908 g boneless chicken (breasts or thighs both work well!)
1 ½ lbs / 680 g of Brussel sprouts (ends trimmed off and cut in half)
4-5 Parsnips, cut into smaller pieces (either 1 cm sticks or 'coins')
1 Tbsp Dijon mustard
DIRECTIONS
After toasting the coriander, remove ½ Tbsp to be finely ground separately. Put the remaining 2 Tbsp in a pestle and mortar, together with the salt and Chile flakes. Crush spices together.
Whisk spices together with the lemon zest and 1/3 Cup of olive oil in a large bowl.
Pat chicken dry and add it to the olive oil mix. Add Brussel sprouts, too and toss so that the oil and spices are evenly distributed on sprouts and meat.
Let it sit at room temperature for 20 – 30 minutes while the oven is warming. Heat oven to 425 degrees.
In a small bowl, combine mustard and 1 Tbsp of olive oil.
Once oven is ready, place the parsnips and sprouts on the pan.
Add the mustard-oil to the chicken and work with hands to evenly coat the chicken.
Add the chicken to the sprouts and parsnips, and bake for 15-20 minutes. Using a spatula, turn everything and cook for 15 – 20 minutes more.
(If the chicken is done ahead of the veggies, remove it from the oven and tent it with foil.)
The total cooking time for the sprouts and parsnips is 30-35 minutes, but cooking time for the chicken can vary depending on the cut. (breast meat is typically about 20 – 25 minutes.)
Check that the chicken internal temperature is 165 degrees °F