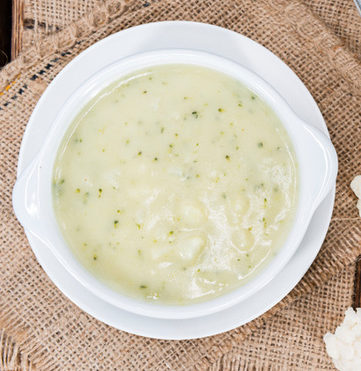 Zesty Cauliflower Soup with Za'atar
This bowl of goodness takes just 5 min of prep time. It's as smooth as satin and yet bursting with flavour thanks to Bad'Az Za'atar. It's gluten-free, dairy-free and vegan. Sorry in advance – you're not going to be able to stop at one bowl!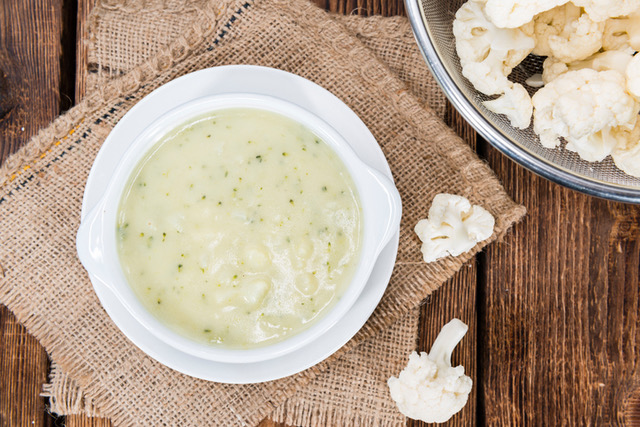 Serves: 4
Time: Prep: 5 min; Cook Time: 7 min using a pressure cooker (20 min for stovetop)
Ingredients
1½ (22 ml) Tbsp olive oil
2 cloves of garlic, chopped
1 onion, diced
1 head of cauliflower, cored and cut into florets
4 cups (946 ml) of vegetable broth (or substitute chicken stock)
1 medium yellow potato, diced
½ tsp salt and ½ tsp pepper (adjust to taste)
2 Tbsp (30 ml) Bad'Az Za'atar to finish
Instructions
In the bottom of a pressure cooker (or a heavy pot), heat olive oil over medium heat. Add onion and garlic. Cook until softened, about 3-4 minutes.
Add cut up cauliflower, potato, vegetable broth and salt and pepper to the pressure cooker. Bring up to pressure and cook for 5 minutes. Use quick release. (Alternatively, if cooking on a stovetop, bring to a boil then cover and simmer for 15-20 minutes until cauliflower is softened.)
Using an immersion blender or traditional blender, puree the soup.
Garnish with Za'atar – about ½ Tbsp per bowl.
Dig in!