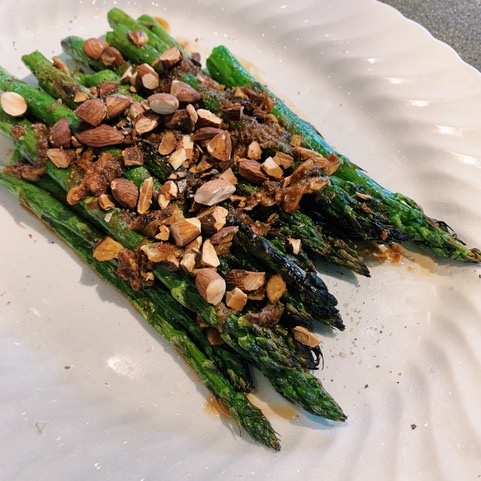 Zesty Asparagus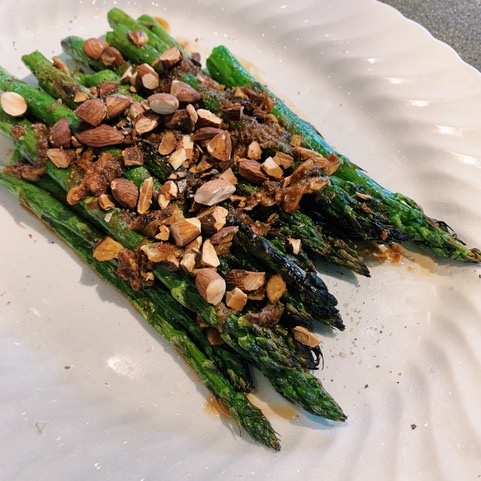 This topping is an irresistible blend of citrusy zest balanced by toasty and crunchy Flav-O-Matic and pecans. And the dressing works equally as well on other veggies.
Serves: 4
Time: Prep: 10 min; Cook Time: 20 min
Ingredients
2 Tbsp skin-on pecans (or almonds)
2 oil-packed anchovy fillets
4 garlic cloves, smashed
Finely grated lemon zest from one lemon
2 Tbsp unsalted butter
¼ tsp chile flakes
3 Tbsp olive oil, divided
2 Tbsp fresh orange juice
1 Tbsp fresh lemon juice
2 Tbsp Flav-O-Matic
Kosher salt, freshly ground pepper
1½ pounds asparagus, trimmed
Instructions
Place a rack in upper third of oven and preheat to 350°. Scatter pecans across a rimmed baking sheet and toast, tossing once, until darkened a little and fragrant, 8–10 minutes. Let cool slightly, then coarsely chop.
Prepare dressing. Cook anchovies, garlic, lemon zest, butter, chile flakes and 2 Tbsp. oil in a small saucepan over very low heat, swirling occasionally, until garlic is golden, 15–20 minutes. Remove from heat; stir in orange and lemon juices and season with Flav-O-Matic blend, and salt and pepper. Let dressing sit while you prepare the asparagus.
Heat broiler. Toss asparagus with remaining 1 Tbsp. oil on a rimmed baking sheet to coat; season with salt and pepper. Broil until deeply browned in spots and crisp-tender, 5–8 minutes.
Toss asparagus and dressing together on a platter; top with pecans.