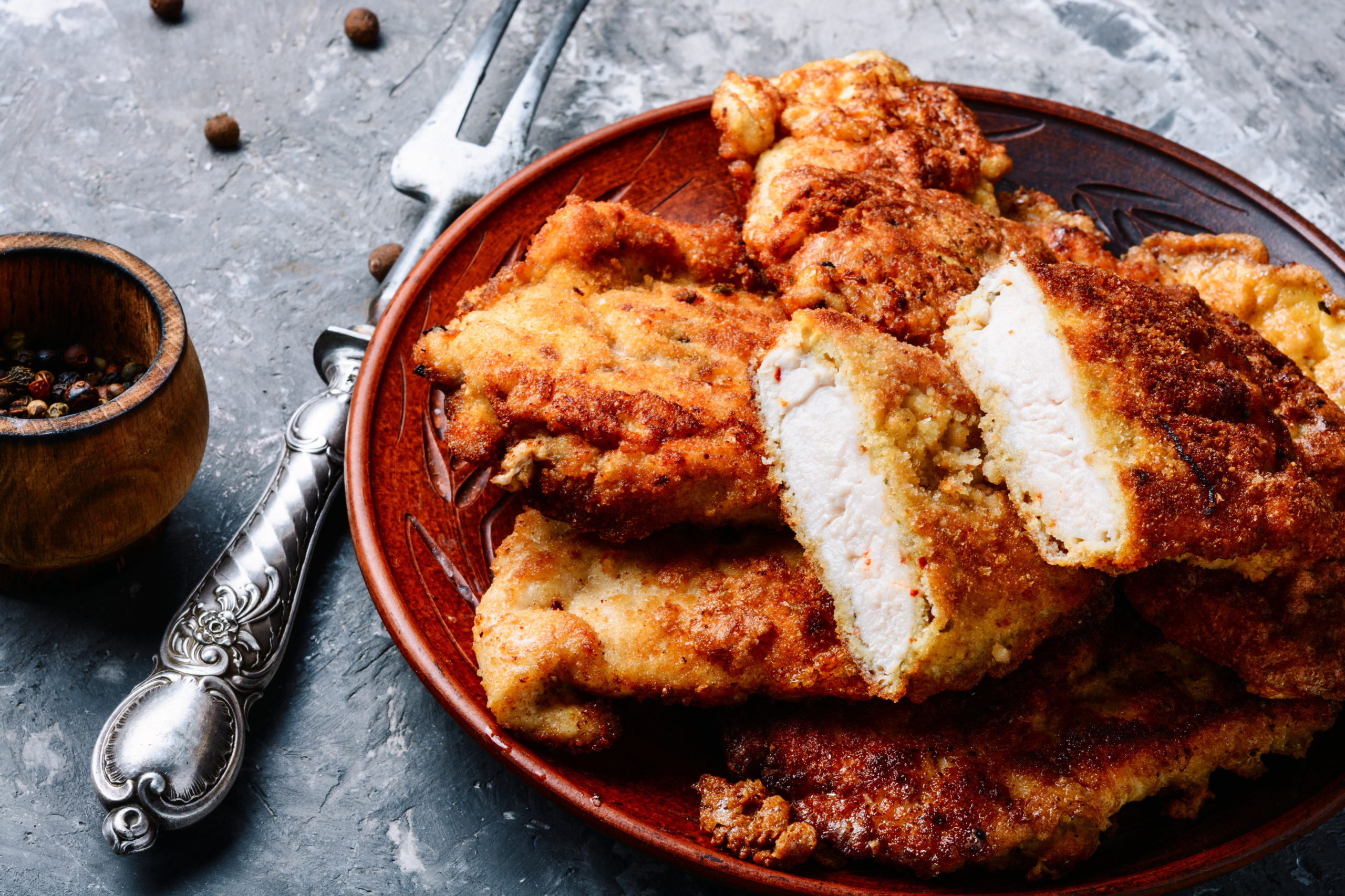 Turkey Schnitzel (or Chicken)
What turkey without needing any roasting? This scrumptious recipe comes together quickly enough to serve as a weeknight dinner, but it's delicious enough to serve for a special evening meal, too!
There are a few dishes involved in the recipe, but the overall time investment is pretty forgiving and the flavour is well worth it! (Plus, this works well with both turkey and chicken so might just become a staple in your recipe repertoire all year long.)
INGREDIENTS
454 – 500 g

boneless skinless turkey breasts

 

( or 2 chicken breasts)

1/2

 

C

 

Flour

2

E

ggs

1 Tbsp Milk

1

 

C

 

Breadcrumbs (can be seasoned) or panko

1

 

tbsp

 

Saturnalia Blend

½

 

tsp

 

salt,

 

or more to taste

⅓ C Oil for frying,

 

avocado, grapeseed or canola oil 

Fresh lemon wedges for garnish
DIRECTIONS
Cut the meat into thinner slices, place between two large pieces of plastic wrap or parchment paper, and using a mallet (if you have one) or a rolling pin pound the meat into thin pieces about 1 – 1 ½ cm thick.
You will need 2 plates and one bowl to bread the meat.

On the first plate, combine the flour, salt, pepper and Saturnalia. set aside
In a shallow bowl, whisk together the two eggs and milk
On another plate, spread out the breadcrumbs (you might want to set another ¼ cup of breadcrumbs, in a cup close at hand in case you need a bit more.)

Dredge the thin slices of meat first in the flour mixture, then in the egg mixture and finally in the breadcrumbs.
Heat oil in frying pan to medium-high heat. Cook for 3-4 minutes per side, watching to not burn. (A set of metal tongs come in handy for turning the meat!) Check with a thermometer to be sure the meat is cooked through to 165 degrees.
*You can also cook this in the oven at 425 for 5 – 6 minutes per side if you prefer to avoid cooking in oil.