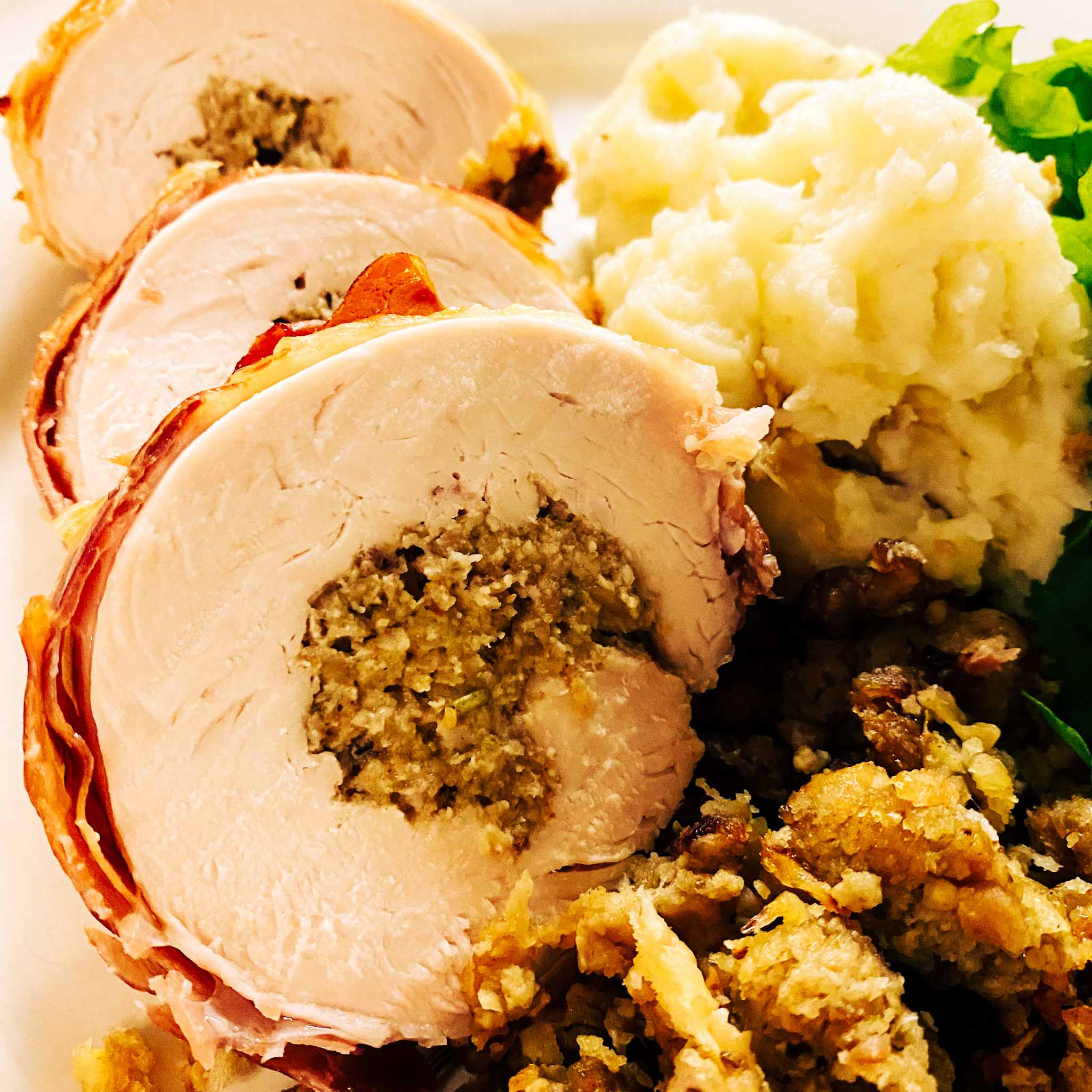 Turkey Roll
In case you have a smaller crew this season for the holidays and would rather not do a whole turkey, here is a recipe that is easily adapted to various sizes of groups and can be made with relatively short notice as it doesn't need the whole day to roast in the oven.
Don't be intimidated by the need to tie this, it's easier than the presentation of it might suggest!
(Here is a video on how to tie it)
INGREDIENTS
Large Turkey Breast (This is adaptable depending on the size of the breast and the number of people you are feeding), Butterflied and pounded (with a mallet or rolling pin) to be about 1 ½ to 2 cm thick
1/2 C to 2/3 Cup of stovetop dressing (aka stuffing), if you have some available (otherwise use ¼ C breadcrumbs)
1/4 Cup Dried Cranberries (or apple chunks)
1 Turkey leg, bone removed and cut into chunks (*you can substitute with boneless chicken thighs)
1 T Olive oil
1 ½ T Saturnalia Blend
3 cloves of Garlic, minced
1 T Cream
¼ tsp Salt
Fresh ground pepper, to taste
5-6 slices of Proscuitto
Kitchen twine to tie it.
DIRECTIONS
Heat oven to 450 ° and line an oven-proof dish with foil.
Combine the stuffing, cranberries, turkey leg meat, olive oil, Saturnalia, garlic, salt, pepper and cream in a food processor until it is a paste.
Spread this evenly on the inside of the butterflied turkey breast (so that the skin side is facedown).
Roll up the breast, starting from the longer side, and rolling horizontally.
With the open-side on the counter, cover the outside of the roll with 1 layer of prosciutto so that it wraps the roll.
Tie it using the twine, tucking the ends in as best you can. (Here's a video on how)
Set the turkey roll in the foil and close the foil (not sealed, just covered) and bake for 40 minutes. Reduce the heat to 325, open the foil and continue to bake for another 20-30 minutes until the thermometer reads 165°
Remove from the oven, let rest for 8-10 minutes, and cut into slices to serve.
(You can use more than one turkey breast if feeding a larger crowd, just adapt the cooking time to be sure it's fully cooked.)