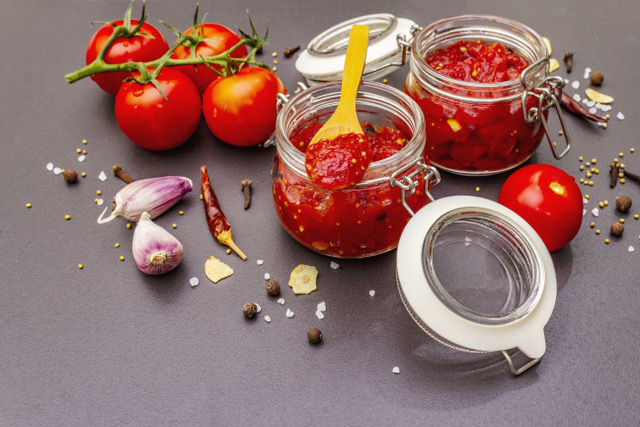 Tomato Jam with Crushed Chile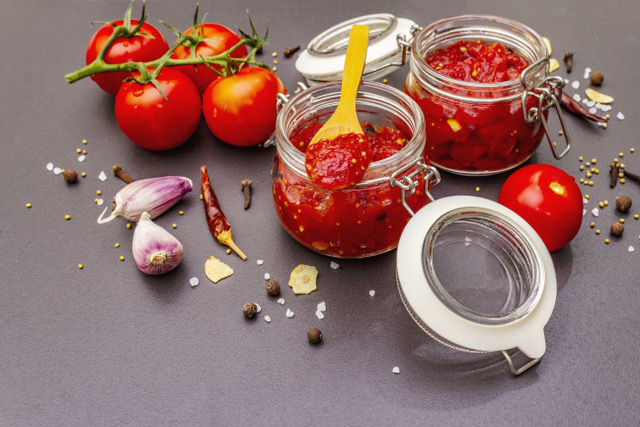 This tomato jam can be used in so many ways: as a condiment on sandwiches, French fries, or burgers. It can double as a chutney with fish or roast meats. Or simply top a few crackers with goat cheese and a dab of tomato jam for a tasty and quick party snack.
Makes about 1 ½ to 2 cups
Time: I hour plus chilling time
Ingredients
1/3 cup brown sugar
2 Tbsp freshly squeezed lime juice
1 Tbsp fresh grated ginger
1 tsp minced garlic
1 Tbsp fish sauce
3 Tbsp white wine balsamic vinegar
1 tsp ground cumin
1/2 teaspoon ground cinnamon
¼ tsp crushed chiles
½ jalapeno, seeded and minced
½ tsp salt
2 pounds ripe tomatoes (Roma are best), cored and coarsely chopped
Instructions
Combine all ingredients except tomatoes, in a heavy medium saucepan. Bring to a boil over medium heat, stirring often.
When it reaches a boil, lower heat to a simmer and add chopped tomatoes, stirring occasionally, until mixture has consistency of thick jam, about 45 minutes. Taste and adjust seasoning, then cool and refrigerate until ready to use. This will keep for up to a month in the refrigerator.