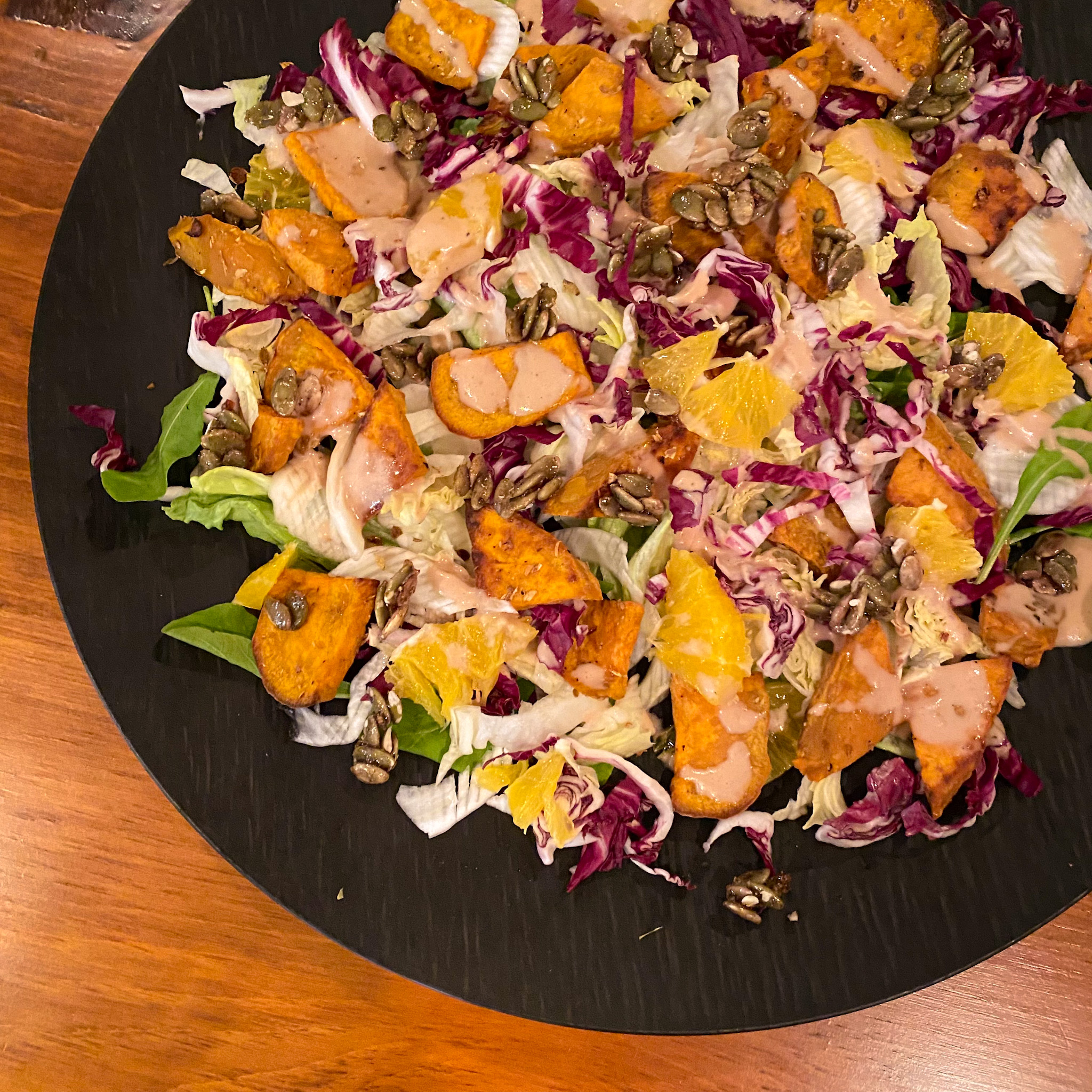 SWEET POTATO SALAD 
If you are like me, sometimes salads can become the same old thing every month. Well, switch things up this season. This is the ultimate fall dish and is a great way to add a bit of festive flavour to any meal or gathering. Served with roasted shallot dressing and candied pumpkin seeds, this salad has the colour and crunch you've been craving all year long. (Coriander shows up in this recipe both on the roasted sweet potatoes and the candied pumpkin seeds.)
INGREDIENTS
⅔ Cup Pumpkin Seeds (Pepitas)
2 TBS Maple Syrup
2 ½ Tsp Coriander Seeds (coursely ground and divided)
1/4 Crushed Chillies *optional
a pinch (each) of Salt and Pepper
400 g Sweet Potato, cut into small pieces, under 1 cm in thickness
3 Shallots, cut in half
¼ Cup Olive Oil, plus 2 tsp (divided)
2  tsp Balsamic Reduction (or 2 ½ Tbsp Balsamic Vinegar)
1 ½ tsp Dijon Mustard
Water, as needed
1 head of Radicchio, torn into pieces and divided up
½ Cup Arugula or other green leaf lettuce
1 Fennel bulb, sliced thinly using a mandolin
⅓ Cup Parsley leaves, torn up
1 Orange, remove the peel and slice into thin slices
DIRECTIONS
Preheat the oven to 400 F, line a baking sheet with parchment or a silicone mat and set aside.
Toss the chopped sweet potatoes and shallots with 2 tsp olive oil and 1 ½ tsp coriander, salt and pepper. Spread out on the baking sheet and bake for 28-30 minutes.
Mix the pumpkin seeds, maple syrup, remaining 1 tsp coriander seeds, chillies, salt and pepper together in a skillet, and cook on medium heat until caramelized. (About 3-4 minutes) transfer to a plate and allow to cool.
Then using a small blender, mix the olive oil, mustard, balsamic reduction or vinegar and water, if needed for consistency. Set aside.
After 28-30 minutes, check on your sweet potatoes, and remove the shallots to avoid over-baking. If needed, put the sweet potatoes back int he oven for another 10-12 minutes, until golden and tender to a fork.
Assemble the salad for serving, layering the radicchio, lettuce, sliced fennel and roasted sweet potato, adding dressing lightly onto as you go.
Garnish with orange slices and top with candied pumpkin seeds.