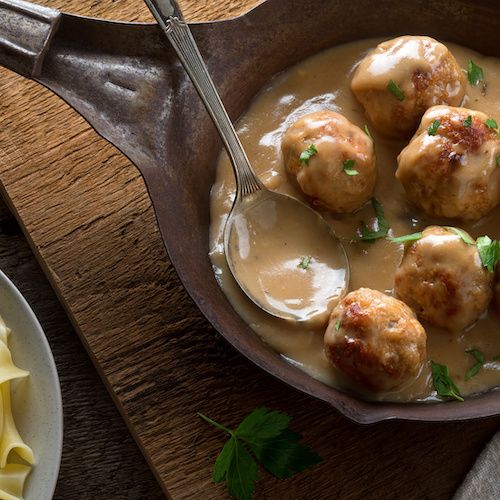 Swedish Meatballs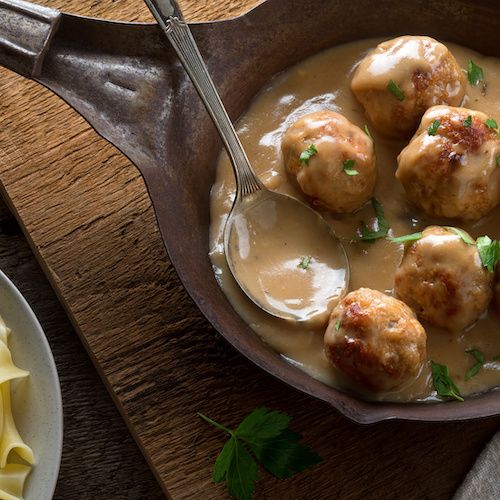 Spiced meat with gravy and jelly was typically reserved for turkey with cranberry sauce. But this Scandinavian meal has become a new favourite comfort food in our home, perfect for weeknights or a casual family dinner.
You can easily double or triple the recipe, to feed a crowd or freeze some for up to 3 months.
Prep time: 25 min
Cooking time: 1 hour
INGREDIENTS – MEATBALLS
2 Cups of Bread, crusts removed/cut into small pieces (about 3 slices)
⅓ Cup milk
1 Egg
225 g Ground beef
225 g Ground pork
1 Tbsp Butter
½ Spanish onion, grated
½ tsp Nutmeg (ground)
½ tsp Cardamom (ground)
½ tsp Pepper
½ tsp Salt
½ Tbsp Oil (Vegetable or Canola)
INGREDIENTS – SAUCE
⅓ Cup Butter
⅓ Cup Flour
1 Beef bouillon cube + 2 Cups cold water / Or 2 Cups Beef stock
⅓ Cup Cream
3 Tbsp Jelly (Traditionally, this is served with Lingonberry jelly, but Saskatoon berry, raspberry or cranberry are all terrific!) *Optional
INSTRUCTIONS
Heat oven to 350 degrees F.
Soak bread in milk for 8-10 minutes, then give it a brief spin in a food processor. (Alternatively, crumble it with your hands.)
Add salt, pepper, nutmeg and cardamom to the bread mixture.
Saute the grated onion in a pan with butter on medium heat for 4-5 minutes.
Whisk the egg, then add both types of meat, bread/milk mixture, onions and egg. Mix well using your hands. Then form meatballs 1 ¼" in diameter.
In a large frying pan, using a bit of oil, brown the meatballs on all sides.
Place on a pan or dish in the oven for 10-12 minutes to finish.
Make a sauce using the brown bits left on the frying pan. Add butter and reduce heat.
Once the butter is melted, add flour a little at a time, using a whisk constantly. (It might get a bit foamy). Cook on medium heat until a medium brown colour.
Add the cold bouillon a little at a time. Add salt and pepper, to taste.
Remove meatballs when finished, add the sauce and serve with egg noodles or rice, with jelly on the side.