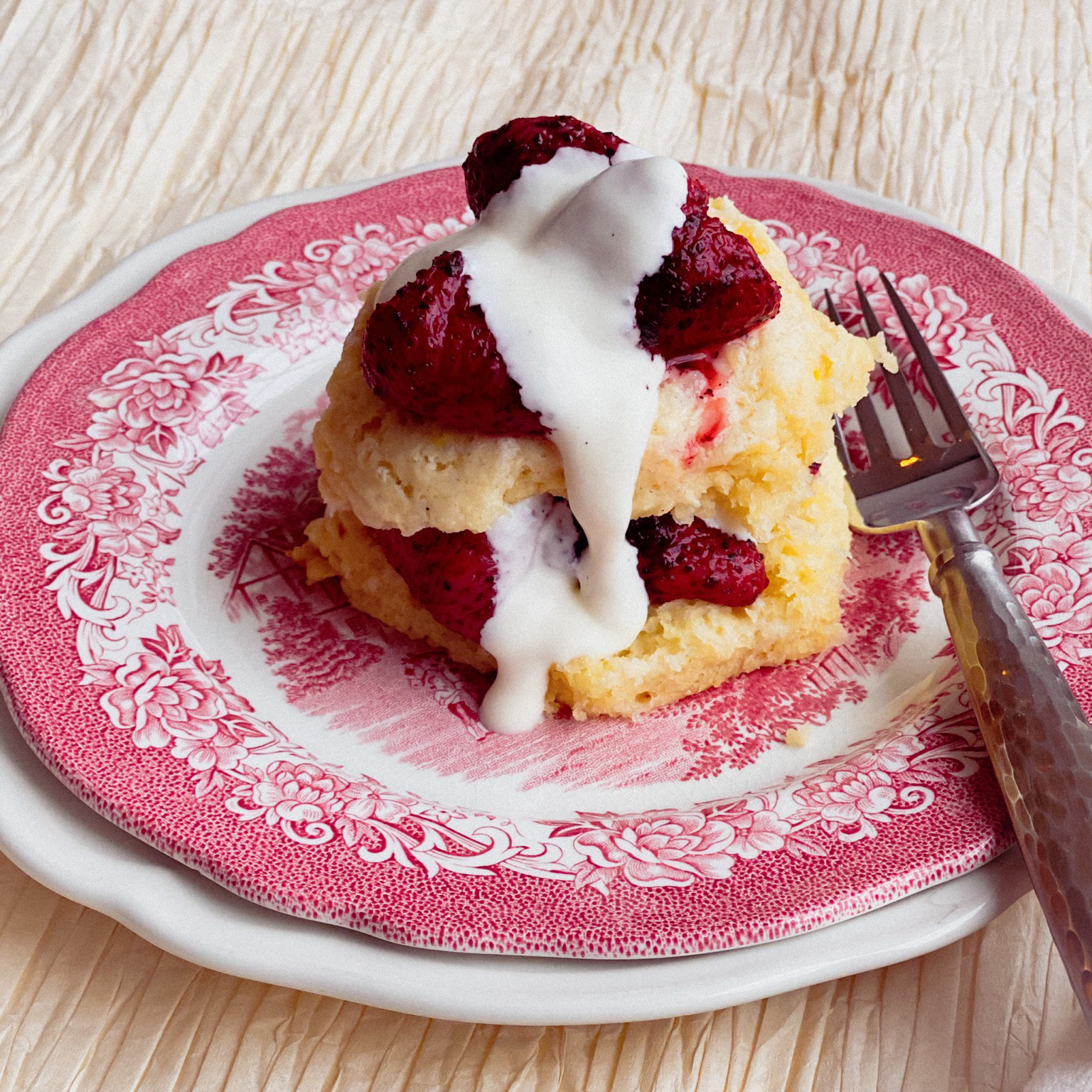 Sumac Roasted Strawberry Shortcake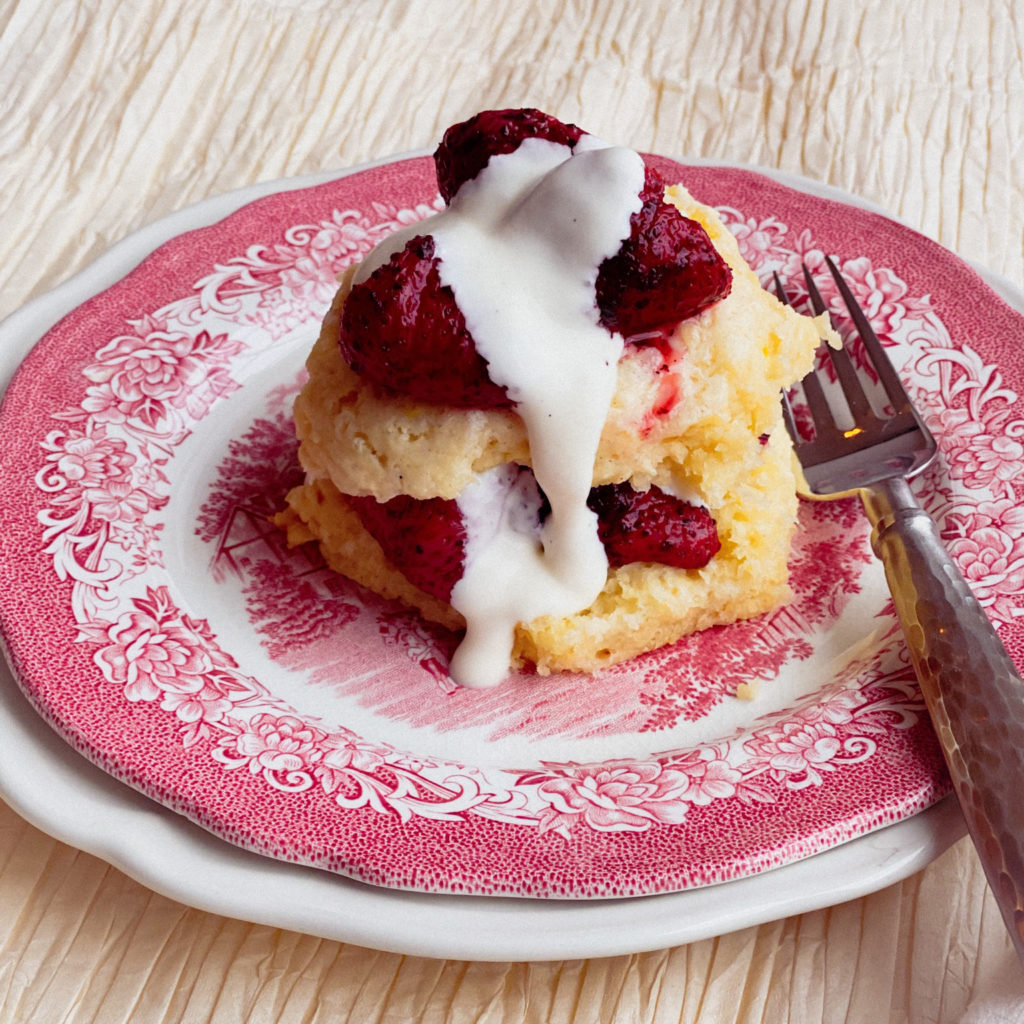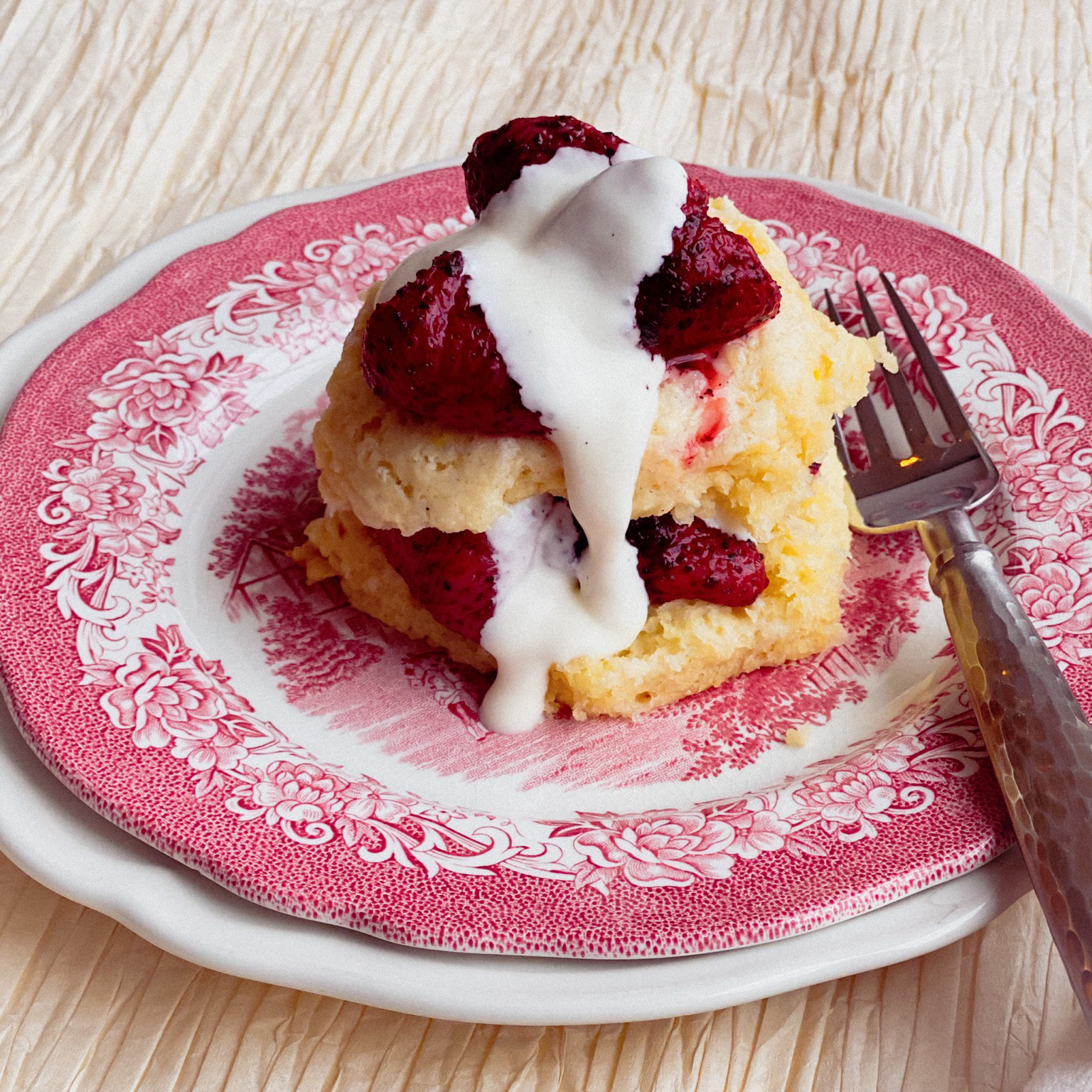 For a twist on the classic Strawberry Shortcake, we roasted the strawberries with a bit of sumac and sugar and added lemon zest to the biscuit batter. The combo adds a bright, citrus flavour that tastes like springtime!
INGREDIENTS – Roasted Strawberries
6 Cups Strawberries, fresh & hulled 
⅓ Cup Sugar
1 ½ Tbsp Sumac
INGREDIENTS – Shortcake
1 Cup (240ml) Milk, cold (or 1 Cup + 1 Tbsp Buttermilk)
Juice of half a Lemon
3 Cups of flour, all-purpose 
⅓ Cup sugar
2 Tbsp Baking powder 
¾ tsp Salt
Zest of 1 Lemon
3/4 Cup Butter, unsalted & cold, and cut into cubes
Sugar, for topping
INGREDIENTS – Whipped Cream
2/3 Cup Whipping cream, cold
1 1/2 Tbsp Sugar
1/2 tsp Vanilla
DIRECTIONS
Preheat your oven to 425° and prep 2 cookie sheets or baking pans with parchment paper or a silicone mat.
Mix the sugar and sumac together in a large bowl. Rinse and hull the strawberries, (keeping them whole), and toss to coat in the large bowl. Place on a cookie sheet/baking pan. Roast for 20-23 minutes.
While the strawberries are roasting, zest your lemon.
Then squeeze the juice of half a lemon into a bowl with milk. Stir and let sit. (You can skip this step if you are using buttermilk.)
In the bowl of your food processor (or a large bowl if you are blending by hand), combine the lemon zest and the dry ingredients for the biscuits (Flour, sugar, baking powder & salt). Mix for 30 seconds.
Add the butter to your flour mixture. Mix again for 1 minute.
Once your strawberries are nearly done (you will need the oven for your biscuits), empty the flour and butter mixture into a large bowl, and fold 1 cup of the lemon & milk gently. (There will be about 1 Tbsp of lemon milk leftover – we will use this!) Try to avoid over-mixing the dough. It will be a bit shaggy looking, but that's ok!
Place the shaggy dough on a floured work surface or pastry mat, and using a rolling pin (or your hands) flatten it so that it's between ½ and ¾ inch thick.
Using a cookie cutter or a glass, cut circles appx 8 cm in diameter.
Place the shortcakes next to each other (this helps them to rise) touching a little on each side. Brush each shortcake with a bit of the remaining lemon-milk combo (or buttermilk) and dust each with a sprinkling of sugar on top.
Bake for 18 – 20 minutes at 425°.
While your biscuits are in the oven, whip cream together with sugar and vanilla and chill before serving.
When the biscuits are done baking, cool on a wire rack.
These are delicious served with either warm or cooled biscuits, and chilled strawberries and cream.