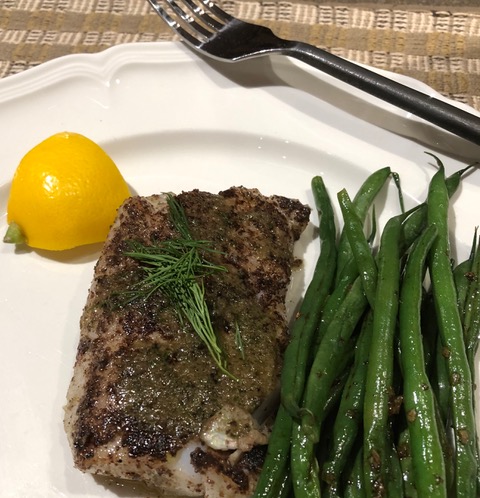 Sumac-Crusted Cod with Black Olive Drizzle
Man, oh man! This is incredibly tasty and super easy to make. It's fancy enough to serve to company or fast enough to make for one! The magic is the Black Olive Drizzle combined with the lemony sumac.
Serves: 2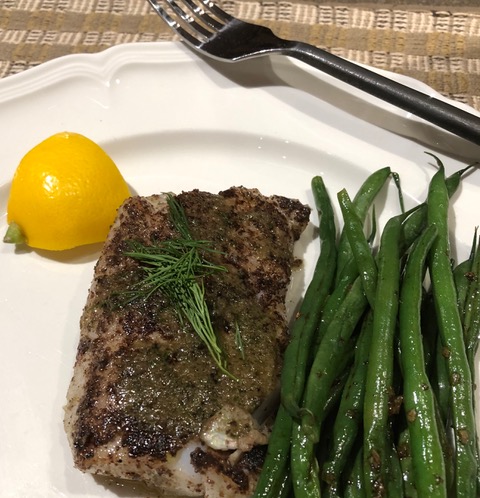 Time: Prep: 30 mins; Cook Time: 20 mins


450 g (1 lb) cod fillets
2 Tbsp (30ml) sumac
2 Tbsp (30 ml) olive oil
Black Olive Drizzle
¼-cup (60 ml) black olives, pitted
1 anchovy, or 1 tsp anchovy paste
1/2 cup (125 ml) extra virgin olive oil
1 garlic clove
1 Tbsp (15ml) dill + more for garnish
1 Tbsp (15 ml) lemon juice



Make the black olive sauce by combining all ingredients in a blender and puree until smooth.
Cut the cod fillets into serving-sized pieces, rub about 1/4 cup of the black olive oil all over the fillets and set aside to marinate for half an hour, or up to two hours.
Preheat the oven to 400 F. Wipe off any excess marinade from the fish. Roll each piece of cod in the sumac to coat. Heat the olive oil in a wide skillet over medium heat. Add the cod fillets to the skillet and cook for about 3 – 4 minutes on each side (depending on thickness of the cod), using tongs to gently turn the fish. Once the cod is sautéed on both sides, remove from the skillet, and transfer to a baking sheet.
Serve immediately, with black olive oil drizzled on top.