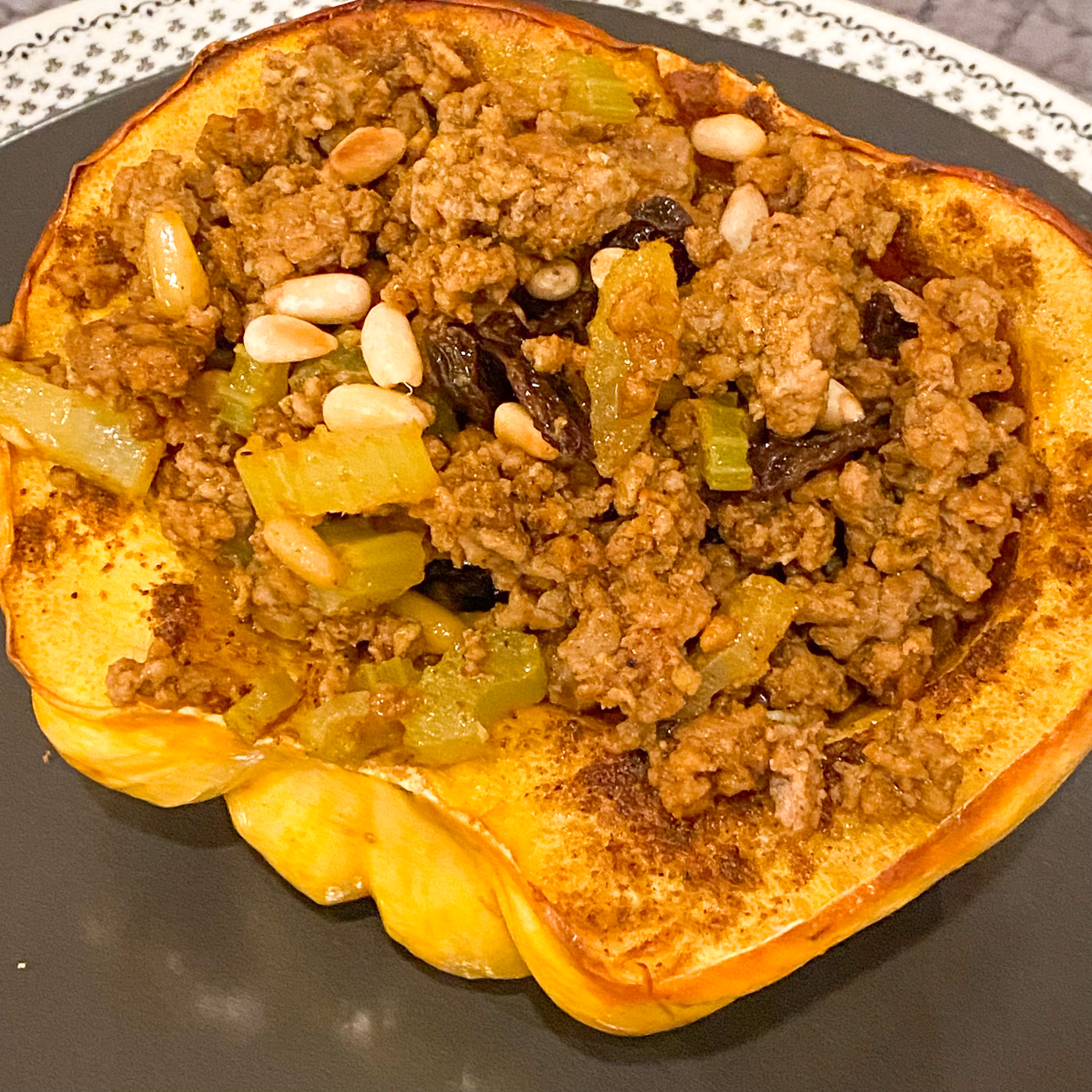 Stuffed Squash
Try this dish with your favourite ground meats. The raisins and pine nuts and DIal R for Ras are delightful with lamb, venison, beef, turkey or pork.
INGREDIENTS
(Serves two people)
1 medium-sized Squash (Carnival, Butternut, Honey or Delicata all work well), cut in half with the seeds removed
2 ½ TBSP Olive Oil, divided
½ Spanish Onion, finely sliced
2 stalks of Celery, chopped
400 g Ground Meat (your choice)
2 cloves of garlic, minced
1 TBSP of Tomato Paste
3 tsp Dial R for Ras, plus a dusting for the squash while baking
Pinch of Cayenne *Optional
⅔ Cup of Chicken Broth
¼ Cup Raisins
¼ Cup Pine Nute, toasted
1 ½ TBSP fresh Mint, chopped finely
1 ½ TBSP Cilantro, chopped finely
Salt and Pepper to taste
DIRECTIONS
Pre-heat your oven to  400 ° F and prep a baking sheet with parchment. Coat the squash inside with a drizzle of olive oil and a light dusting of Dial R for Ras. Bake with the cut side down for 45 – 50 minutes.
While the squash is baking, prepare the meat mixture in a skillet on the stovetop. Start with the olive oil and the onions and celery on medium heat for 4-6 minutes, then add the garlic. Add Dial R for Ras and tomato paste and stir to combine.
Then add the ground meat and brown it so that it is fully cooked. Reduce the heat and add the chicken broth, simmering for 5 minutes.
Remove the meat from the heat, and add in the pine nuts, raisins, mint and cilantro. Season with salt and pepper to taste.
Once the squash is ready, rewarm the meat so it's hot. Turning the squash right-side up, add the meat and serve.
(For Vegetarian diets, check out this SQUASH TAGINE WITH PRUNES)