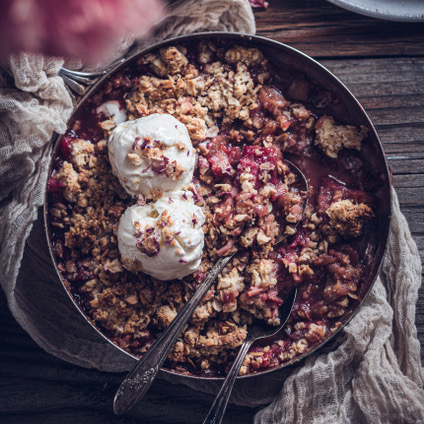 Strawberry-Rhubarb Crisp with Lavender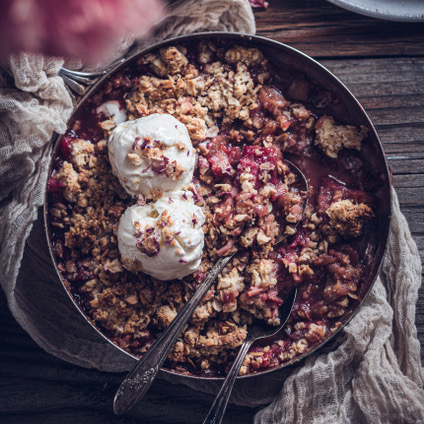 If you are a fan of rhubarb, then you are sure to fall in love with this lovely combination. Let your preferences guide you, and feel free to be flexible with the ratio of strawberries or of rhubarb based on your flavour preference.
Ingredients
Cooking spray or butter
500 g Rhubarb stalks, sliced 1/2 inch thick
500 g Strawberries, hulled and quartered
½ C Sugar
¼ C Honey
1 tsp Lavender buds
Pinch of fine salt
½ C Almonds (raw and slivered)
For the Crisp/Topping
1 ½ C Rolled oats
½ C Flour
½ c Light brown sugar (packed)
6 Tbsp Butter (room temperature)
Directions
Heat the oven to 375° F with a rack set in the middle.
Grease a baking dish (8 x 8″ or 6 x 10″ work well)
Using a pestle and mortar, combine 1 Tbsp of the white sugar (from the ½ C), the pinch of salt and the lavender buds. Grind so that the sugar, salt and buds are well combined.
In a large bowl, combine the strawberries and rhubarb together with the sugar, honey and the lavender-sugar blend. Transfer to the greased baking dish, spreading it into an even layer.
In a separate bowl, combine the oats, flour, brown sugar and salt. Mix well.
Add the butter to the oat mixture, combining by hand to make the crumble.
Sprinkle to crumble on top of the rhubarb mixture. Add the almonds on top.
Bake for 35 – 45 minutes, until the crisp is golden and the fruit is bubbling.
Serve warm with ice cream or whipped cream.