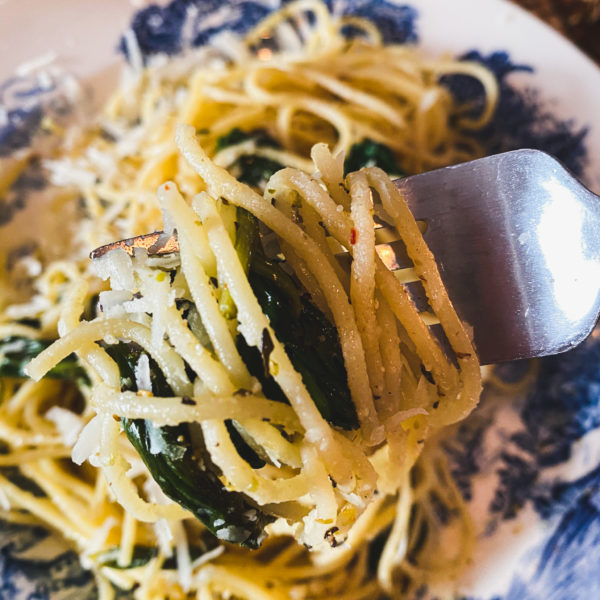 Spinach & Bad'Az Pasta
Bad'Az Za'atar is one of the quickest ways to add depth and flavour to a pasta Aglio e Olio! (Also makes amazing salad dressing when pinched for time.) Add the spinach, garlic, and lemon for a fresh riff on pesto. (The sesame seeds in Za'atar lend it a nutty quality.) Served with seafood (we especially liked grilled shrimp in sumac and mint butter), chicken or even on its own.
INGREDIENTS
1 Pkg (500 g) of Pasta (ideally spaghetti, linguini or spaghettini), cooked until 'al dante' and reserve a cup of the pasta water
½ Cup of Olive Oil
3 – 4 cloves of Garlic, chopped or minced
312 g Baby Spinach, chopped roughly
2-3 Tbsp Bad'Az Za'atar
1 Tbsp Capers or Anchovies, chopped *Optional
½ tsp Chilli Pepper Flakes *optional / more if you like it spicier
1 Lemon, both the zest and the juice
4 Cup of chopped Parsley
⅓ – ½ Cup (+ extra to serve) Parmesan, grated
DIRECTIONS
While the pasta is cooking, heat the olive oil and garlic in a large pot or deep saucepan on medium heat for 3 minutes (garlic starts to become golden).
Add ⅓ cup of pasta water, lemon juice and chopped spinach (a little at a time) and stir.
Once the spinach has wilted, add the crushed chillies, capers or anchovies (if using) and half of the Bad'Az (1-1 ½ Tbsp).
Add the pasta, toss to coat and finish with cheese, lemon zest, parsley and remaining Bad'Az. Add a bit more olive oil and/or pasta water if needed.
Serve either warm or room temperature.