Fattoush Salad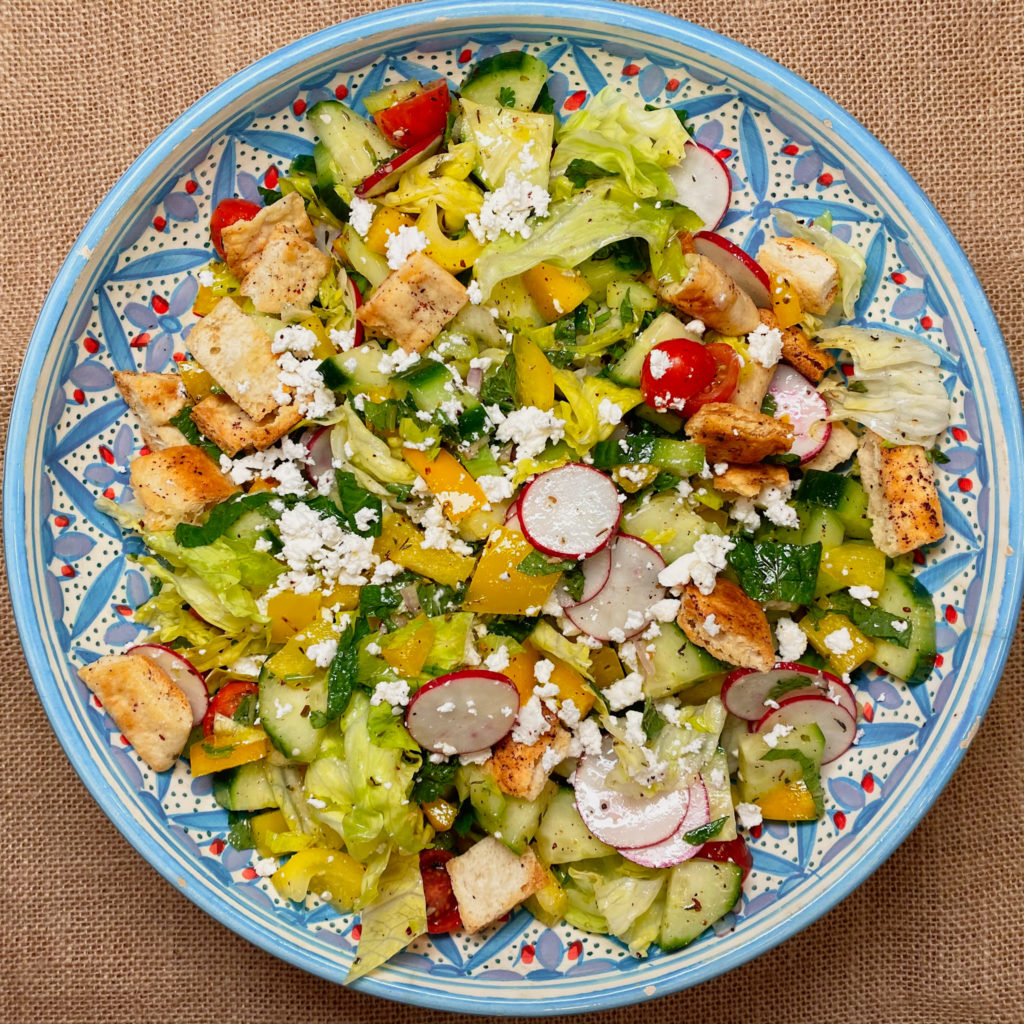 If 'Fattoush' translated to 'anything goes' or 'eat lots of vegetables' it would have made perfect sense. But it doesn't. It turns out to simply be the name of this particular type of salad. What seems to be a constant is the combination of a variety of vegetables (particularly cucumbers, tomatoes and radishes) chopped up together with mixed greens and mint, and toasted flatbread. (Often feta is involved, but not always.) And the other constant is a vinaigrette that is seasoned with Za'Atar.
We recommend making up a batch of this dressing to have on hand and playing around to find your personal favourite combinations of vegetables Or add tofu, shrimp or chicken to it, for added protein.
INGREDIENTS – Dressing
1/3 Cup Olive oil
Juice of 1 Lemon, freshly squeezed
1 Cloves Garlic, minced
2 tsp Bad'Az
1 tsp Honey (liquid)
½ tsp Sea salt, fine
INGREDIENTS – Pita Chips
1 Pitas, cut into 3 cm (appx) pieces
½ Tbsp Olive oil
½ tsp Sumac
¼ Salt, either fine of flakes of sea salt is great if you have it
INGREDIENTS – Salad
1 English Cucumber, chopped into 1.5 cm cube-like pieces
1 – 2 Bell Peppers (different colours are nice), chopped into bite-size pieces
½ Cup Cherry Tomatoes, cut into 4 pieces
5-7 Radishes, sliced
¼ Head of Iceberg Lettuce, rinsed and chopped into appx. 2-3 cm pieces
½ Cup of Mint leaves, chopped
1 – 2 Tbsp of Feta, crumbled
(Optional – Add in Chopped Celery, Chopped Zucchini, Parsley, more of any of the above depending on your preferences)
DIRECTIONS
Preheat the oven to 375 degrees and line a baking sheet with parchment paper.
Brush both sides of the pita bread with olive oil and sprinkle with sumac and salt. Cut into pieces and spread out in a single layer on the baking sheet. Bake for 6 minutes. Then turn and bake for 4 -5 more minutes (until crisp).
In a jar (with a lid that will seal well) combine all the ingredients for the dressing and shake well to blend.
In a large bowl, add the salad ingredients together and dress with salad dressing. (Adding the salad dressing a little at a time, to not have too much). Let stand for 15 – 20 minutes. Or longer in the fridge).
Just before serving, toss together with pita chips and add the feta cheese.