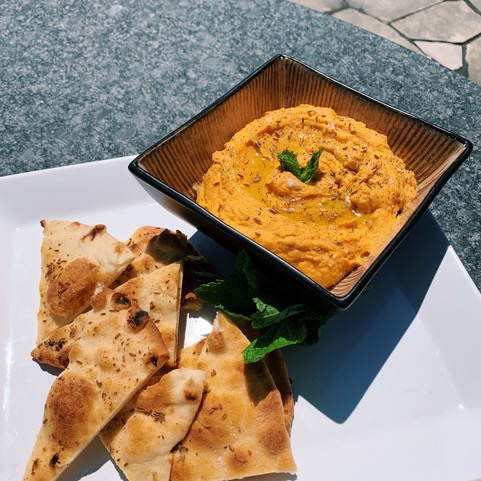 Spiced Sweet Potato Hummus with Cumin Chips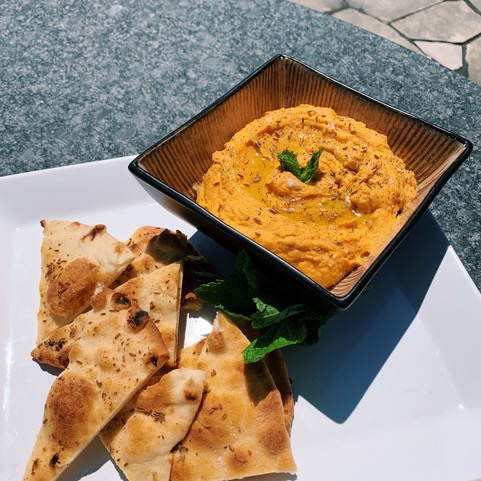 Here's a fresh and oh so tasty take on a classic hummus recipe. Peanut butter replaces tahini and toasted cumin and cayenne perk up the flavour meter. A food processor and the microwave do the heavy lifting. Guaranteed crowd favourite!
Makes: 2 cups
Time: Prep: 20 min
Ingredients
1 large sweet potato (about 400 grams)
1/3 cup olive oil, plus more for drizzling
2 cloves garlic, smashed and peeled
1 cup canned chickpeas, drained
2 -3 Tbsp peanut butter
Juice from 1 lemon
1 ½ Tbsp cumin seed, divided
1 tsp salt
¼ tsp cayenne
½ cup water
Pita Chips:
4 pitas, cut into 1-inch triangles
3 Tbsp olive oil for brushing
2 tsp cumin
Salt and pepper to taste
Instructions
Preheat oven to 350F.
Wash sweet potato thoroughly, pat dry, pierce 3-4 times with a fork. Place potato on microwave-safe plate and microwave 6 minutes, turning halfway through. If your potato isn't fork tender after 6 minutes, continue microwaving in 30 second increments. Split potato down the middle, scoop out contents and put in a food processor.
In a small skillet over low heat, warm the oil and garlic until the garlic is lightly browned and soft, about 10 minutes. Set aside to cool.
Place pita triangles onto a baking sheet and brush with oil. Sprinkle with cumin and salt and pepper. Bake for 15 minutes until lightly browned and crisp. Set aside.
Add the cooled oil and garlic, chickpeas, peanut butter, lemon juice, 1 Tbsp cumin, salt and water to the food processor along with the sweet potato. Puree until combined and smooth, adding 1 to 2 tablespoons water if needed. Remove the hummus to a bowl.
Top with a small drizzle of olive oil and sprinkle with the remaining cumin. Serve with baked pita chips.