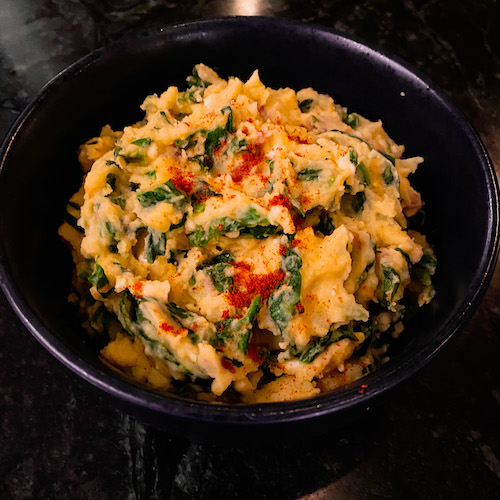 Spiced Stamppot w/ Spinach & Bacon
Known as one of the oldest and yet, still super popular dishes in Dutch culture is the Stamppot. This delicious combination of mashed potatoes and vegetables cooked together dates back to 1574. Often it is thought of as part of a perfect winter meal because of its incredibly satisfying, belly-warming effect. But in fact, it's quite delicious any time of year.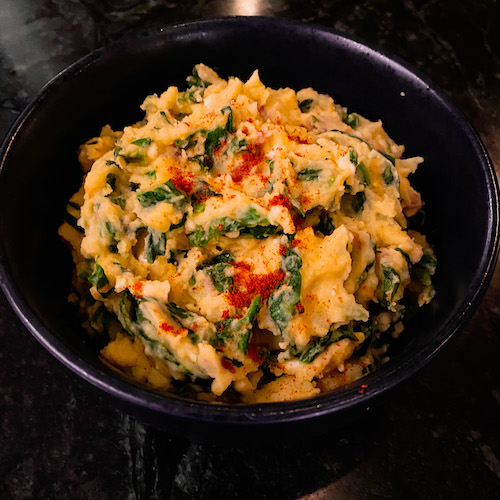 If you don't have spinach on hand, kale also works really well! In fact, there are lots of different vegetable and potato combinations, so don't hesitate to get creative based on what you have in your fridge!
Prep time 8 -10 minutes / Cooking time 15 minute
INGREDIENTS
3-4 Potatoes (depending on the size), peeled and cut into mid-sized pieces for boiling.
2 Cups of Spinach, raw and chopped (frozen works, too if you don't have fresh – use 5-6 pucks)
3 slices of Bacon, cooked well, and chopped into small pieces or crumbled
1 TBSP Butter
2 tsp Sour Cream *Optional
11/2 tsp Smoked Paprika
3-4 dashes of Maggi Seasoning *Optional
Salt and Pepper to taste
1 Dab of Dijon Mustard *Optional
DIRECTIONS
In a medium-sized pot, cover the potatoes with water, adding a pinch of salt and boil for 12- 15 minutes (until cooked through, ready for mashing)
Drain the potatoes, but keep about a ¼ cup of the potato-water. You can use this to get a great consistency.
In the pot, mash the potato, and add the remaining ingredients. Stir everything together, and if it seems too thick, add a tablespoon of the potato-water back in. (Add more, if needed.)
Check the flavour and add salt and Pepper to taste.
Re-heat on medium-low heat. Serve warm, with a protein of choice and a dab of Dijon mustard on the side.