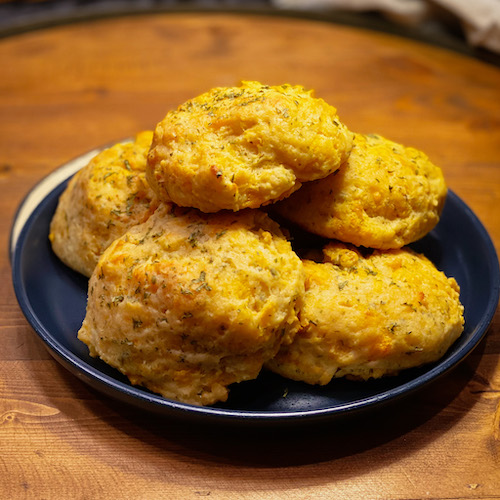 Smoky Cheddar Biscuits
Drop biscuits are the best! They are easy to make and fast – and are the perfect complement to a bowl of soup or chilli. If you have any leftovers (which rarely happens around here), transform eggy-breakfast sandwiches into something quite special.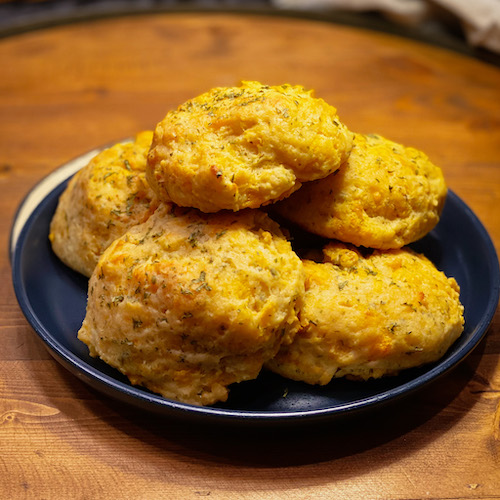 Prep time 5-8 minutes / Baking time 12 -15 minutes
INGREDIENTS
2 ¼ Cup Flour, all-purpose
1 TBSP Sugar
1 TBSP Garlic Powder
1 TBSP Baking Powder
1 tsp Salt
1 tsp Smoked Paprika
1 ½ tsp Parsley, dried
½ tsp Cayenne Pepper
2 Cups of Old Cheddar, grated
1 Cup Buttermilk (if you don't have Buttermilk, add a TBSP of lemon juice to regular milk)
½ Cup Butter, unsalted, melted & cooled
Topping – Ingredients
2 TBSP Buttermilk
1 tsp Parsley, dried
½ tsp Spanish Paprika
DIRECTIONS
Preheat your oven to 450 degrees, and line a baking sheet with either parchment paper or a silicone mat.
Mix all the dry ingredients (flour, sugar, garlic powder, baking powder, salt, smoked paprika, and cayenne) and use a whisk to blend.
Add the grated cheese and mix.
Add the melted butter to the buttermilk, and then combine the wet mixture with the dry/cheese mixture. Blend gently until just mixed.
Using a ⅓ cup as a scoop (or an ice cream scoop works well, too), place the dough on the lined baking sheet leaving about 3 cm between each one.
Bake for 13 – 15 minutes until the bottoms are lightly browned.
Mix the 'topping' ingredients together and lightly brush the tops with it when the biscuits are fresh out of the oven.
Serve warm or cool with a bowl of soup, stew or chilli!