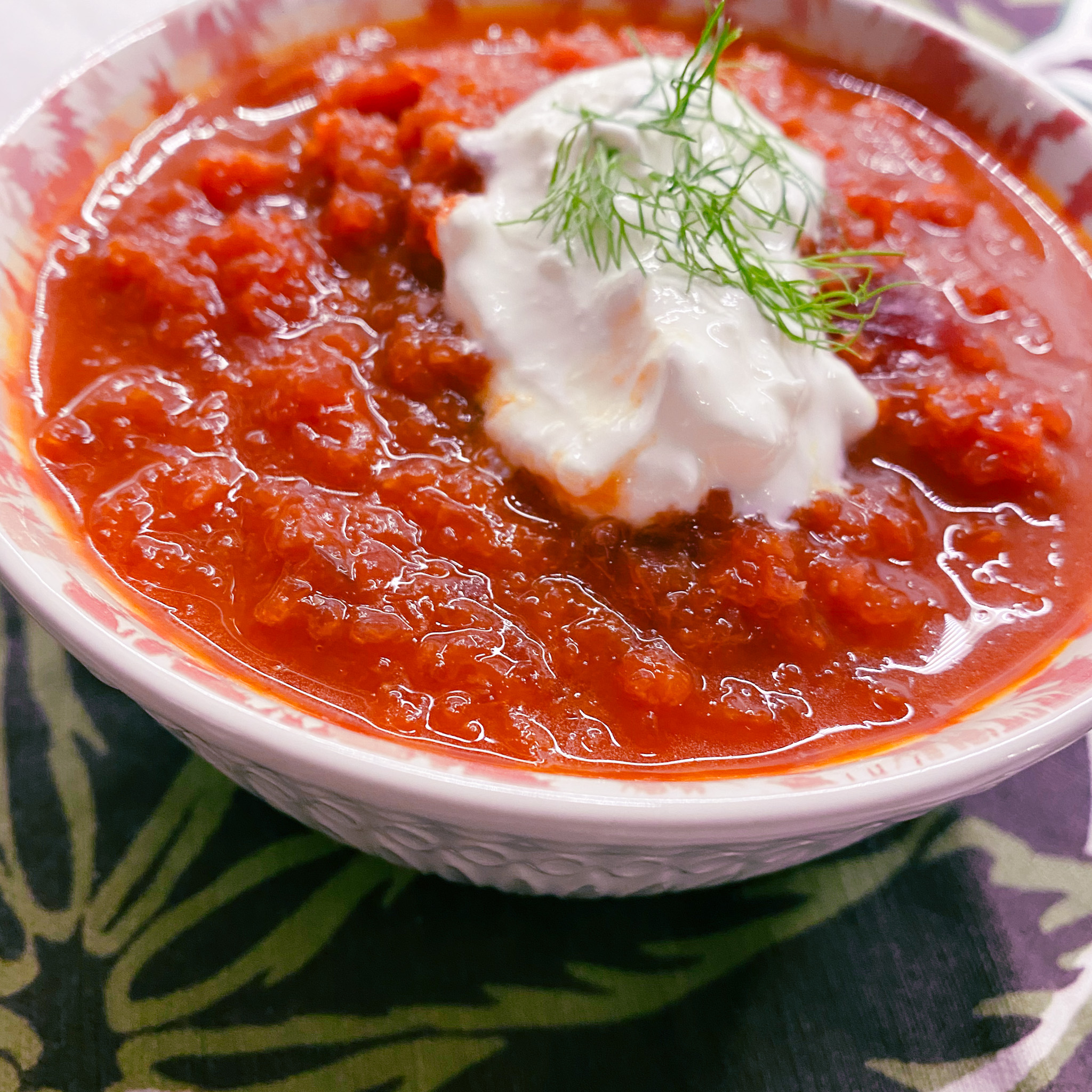 Simple Borscht with Fennel Seed
It's no secret that fennel is a friend to beets, a fact that is solidified after one bite of our sweet and sour soup — the perfect way to warm up on a cold winter day!
This can be made up with little fuss using pre-cooked beets or even canned beets. And, if you have an Instant Pot, soup's on in no time.
(Skip adding a dollop of sour cream for a vegan option.)
INGREDIENTS
2 Tbsp Olive Oil
1 medium Onion, chopped
5 cloves of Garlic, crushed
3 stalks of Celery, chopped
2 medium-sized carrots, chopped or cubed
1 Cup of Red Cabbage, chopped or shredded (green also works but the colour is less vibrant)
3 tins of pre-cooked Beets (not pickled), or 4 beets, peeled and chopped or shredded
2 Tbsp Tomato Paste
1 ½ Tbsp Fennel seed, ground
1 Litre Vegetable broth
1 ½ Tbsp Apple Cider Vinegar
1 ½ tsp salt
½ tsp fresh ground pepper
¼ tsp Cayenne *Optional (or more, to taste)
Fresh parsley or Fennel fronds (to garnish)
Sour cream (with horseradish, optional) to garnish
DIRECTIONS
Set the Instant Pot to saute, adding the oil and chopped onions. Stir regularly for 4-5 minutes so as not to burn. Add the garlic and stir.
Add the celery, carrots and ground fennel. Mix well and let cook for a few minutes.
Add the tomato paste, salt, pepper and cayenne and stir to blend. Then add in the beets (When using canned beets, you can add the liquid in as well.) Mix everything together. Press cancel.
Add in the broth and place the lid on the pot, and lock it. Set 'Manual' for 10 minutes. When it's finished, allow it to naturally release for 5 minutes then release the pressure manually.
Stir in the apple cider vinegar, and check if it needs a little extra salt, pepper or cayenne.
Serve warm with a dollop of sour cream (add a tiny bit of horseradish into the sour cream for an extra kick. And garnish with parsley or fennel fronds.