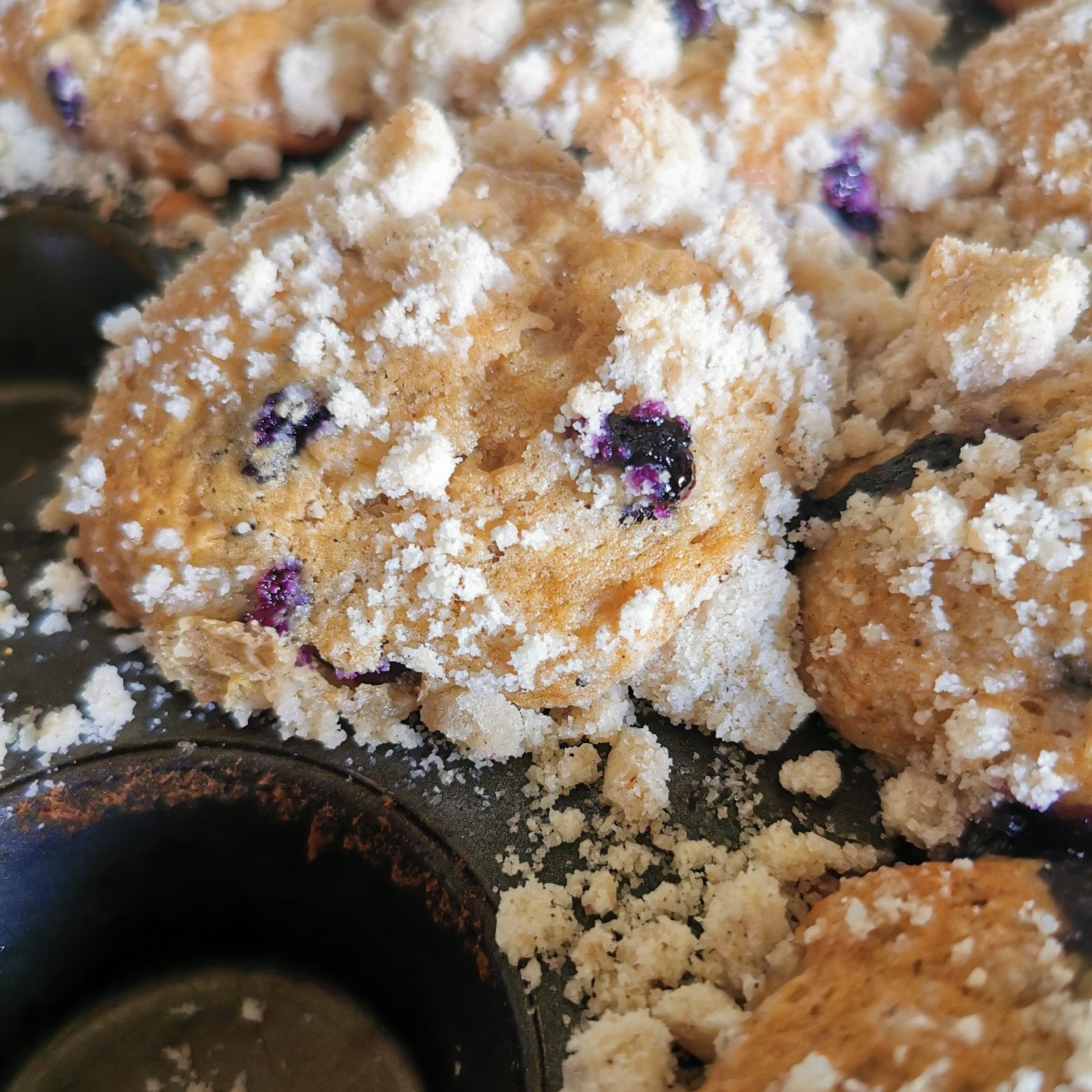 Scorpio's Kiss Banana Blueberry Muffins
A sophisticated spin on a classic breakfast treat, these muffins are both fluffy and moist and capture the comforting yet exotic taste of cardamom. Make a bunch, because they freeze beautifully (or eat them all in one sitting, we won't judge!).
INGREDIENTS
2 ¼ Cups All-Purpose Flour
1 Tbsp Baking Powder
¾ tsp Baking Soda
½ tsp Scopio's Kiss
½ tsp Salt
½ Cup Butter, melted
¾ cup Brown Sugar, packed
2 eggs, ideally room temperature
2 tsp Vanilla
1-½ Cups mashed bananas (about 3 bananas)
1 ½ – 2 Cups Blueberries, either fresh or frozen berries (don't thaw first)
¾ Cup Flour
½ Cup Sugar, white
1 ½ tsp Scorpio's Kiss
4 TBSP Butter, melted
DIRECTIONS
Preheat the oven to preheat at 425° F (NOTE – You will be reducing the temperature after the muffins are baking for about 5 minutes.) Prep a muffin tin with butter, oil or line with paper baking cups.
In a large bowl, whisk together the 2 1/4 cups of flour with baking powder, baking soda, Scorpio's Kiss and Salt. Set aside.
In a small bowl make the crumb topping by combining the ¾ cup of flour, ½ cup of sugar, Scorpio's Kiss and 4 TBSP of butter. (It will form into little clumps.
Using a medium bowl or stand mixer, combine the brown sugar, vanilla and butter. Add the eggs and continue to mix until blended.
Add the mashed bananas and continue blending.
Gently fold in the dry ingredients and mix by hand to ensure you don't over mix. Add the blueberries and mix to combine, again not over mixing.
Scoop the batter into the muffin tins, filling near to the top of each and topping with the crumble. Bake for 5 minutes, then reduce the heat to 350° F for an additional 12 – 15 minutes. (Check they are done, using a toothpick.)
Remove from the oven and cool in muffin tins to prevent the muffins from falling apart.
TIP
If you are going to use frozen blueberries, don't thaw them. Just toss them in a tablespoon or two of flour before adding them so they don't sink to the bottom.