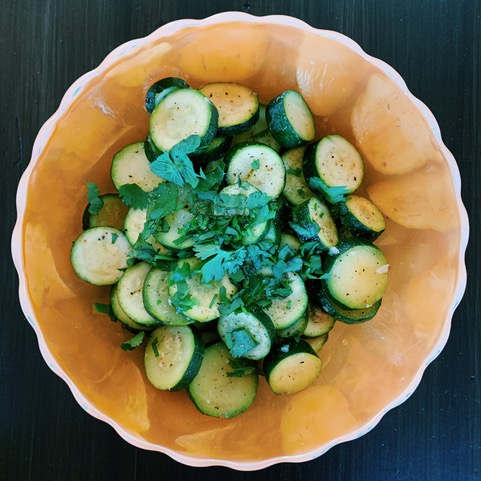 Savoury Cumin & Zucchini Salad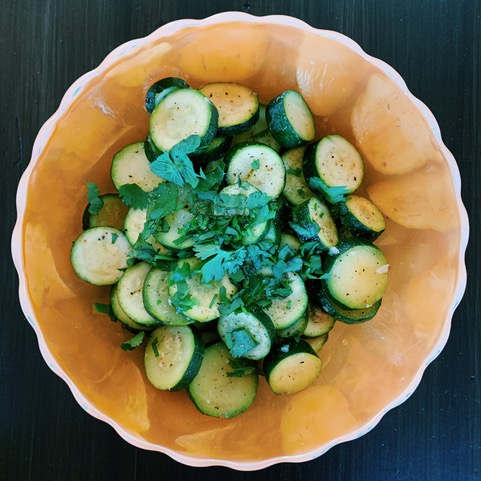 Zucchini is a neglected vegetable. It's chalk full of vitamins and is described as the most overlooked super food. Here's a quick (less than 10 minutes) and really tasty recipe that can be served warm or cold. it's a great side dish at outdoor picnics and BBQs! The key is to toast the cumin whole before adding it to the recipe. BTW- toasting ground cumin causes it to burn.
Serves: 4
Time: Prep: 10 mins
Ingredients
2 pounds yellow or green zucchini (or other summer squash, thinly sliced into ½" 'coins'
3 Tbsp freshly squeezed lemon juice
1 – 2 garlic cloves, minced or puréed
1 tsp cumin seeds, lightly toasted and ground (a coffee grinder works best)
½ tsp each salt and pepper (or to taste)
¼ cup extra virgin olive oil
3 Tbsp chopped cilantro
Instructions
Microwave or steam the squash for three to four minutes until just tender. Remove from the heat.
Mix together the lemon juice, garlic, cumin, salt, pepper and olive oil.
Toss the dressing with the squash. You can serve this warm, in which case add the cilantro and serve. Alternately, refrigerate until shortly before serving. Toss with the cilantro and serve.