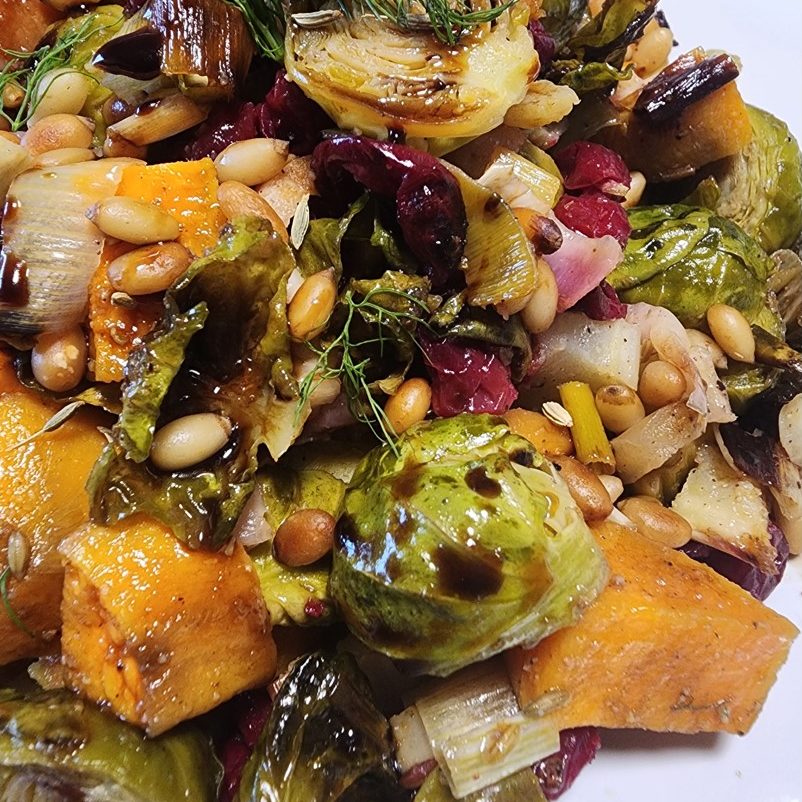 ROASTED CRANBERRY BRUSSELS WITH SWEET POTATO, LEEKS & FENNEL
Brussels Sprouts get a bad rap!  But cook them properly with the right combination of ingredients, including the unexpected flavour of fennel, and you'll convert any hater! It's a pretty dish to add to your table with the bright pops of cranberry in the orange and green.
This combination would be delicious served chilled (as a salad), as well!
INGREDIENTS
½ lb (about 2 cups) Brussels Sprouts, cut in half
½ Fennel bulb, sliced in half and then into ¼" thick pieces
1 Leek, sliced in half and then sliced into ¼" thick pieces
1 Sweet potato, medium-sized /cut into cubes (similar in size to half a brussels sprout)
1 cup Cranberries, fresh
¼ cup Olive oil
1 Tbsp Maple Syrup
Zest of 1 Lemon
1 ½ tsp Fennel seed, crushed slightly
½ tsp Saturnalia spice blend
¼ tsp Kosher Salt
¼ tsp Black Pepper, ground
Topping
½ tsp Fennel seed, toasted
¼ cup Pine nuts, toasted
Balsamic glaze
DIRECTIONS 
Preheat oven to 400°
Trim the ends off the brussels sprouts and remove any yellow leaves.  Then, slice the brussels sprouts in half.
Add all the ingredients to a large bowl and toss to coat all the veggies and cranberries evenly.
Spread in a single layer on a stone baking tray or a prepared baking sheet and bake for 20-25 minutes until the sprouts and sweet potato pieces are fork tender.
You can turn the broiler on for 1 minute when they're done cooking if you desire more crispiness.
While the veg mix is cooking, toast the fennel seeds with the pine nuts in a small pan, stirring often and being careful not to burn.  Transfer to a plate and allow to cool.
Transfer to a serving dish and top with toasted pine nuts, fennel seeds, fresh fennel fronds and a drizzle of balsamic glaze.
Enjoy!