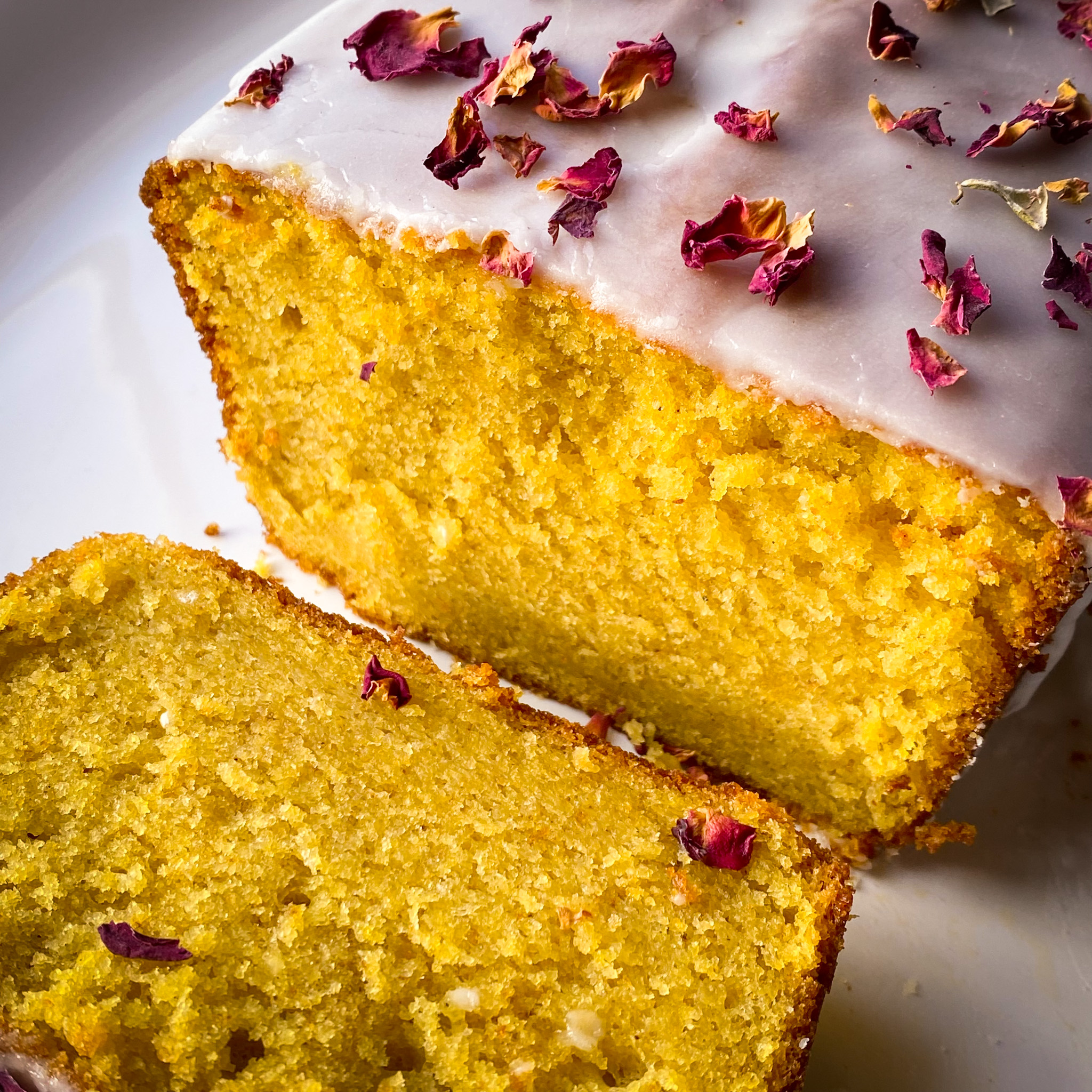 Ras & Roses Buttermilk Loaf
If you are the type of person who loves an afternoon cup of tea and a light snack, this might be a dream come true. Dial R for Ras adds a beautiful depth of flavour and colour, and the rose water and dried petals add tremendous sophistication.  If you don't have rose water and dried petals available, not to worry. It's every bit as lovely when made with an orange glaze and zest to decorate.
INGREDIENTS
1 ½ Cup (175 g) Flour
1 ⅓ TBSP Dial R for Ras
1 tsp Baking Powder
3 eggs, room tempurature
¾ Cup (heaping/170g) of Sugar
½ Cup + 1 TBSP (145g) of Unsalted Butter, melted
1 tsp Vanilla
⅔ Cup (150g) Butter Milk, ideally at room temperature
¾ Cup of Icing sugar
Rose Petals or Orange Zest from 1 Orange
3 tsp or either rosewater or orange juice, freshly squeezed
DIRECTIONS
Preheat your oven to 350° F and prep a loaf tin with cooking spray or butter and a parchment paper liner.
Sift the flour, baking powder and Dial R for Ras together in a small bowl and set aside.
Using a mixer (standing or handheld), beat the eggs and sugar together.
Add the vanilla and the melted butter and continue to mix well.
Slow the mixer and add the flour mixture and the buttermilk until just blended. (Avoid over-mixing at this point.)
Pour mixture into the loaf pan and bake for 50 – 55 minutes or until a toothpick comes out clean. Let cool in the tin before glazing.
For the icing, combine icing sugar with 3 tsp or either rosewater or fresh squeezed orange juice and decorate with either rose petals or orange zest
If you don't have any buttermilk handy, add a teaspoon of lemon juice to your milk and let it sit for a couple of minutes.