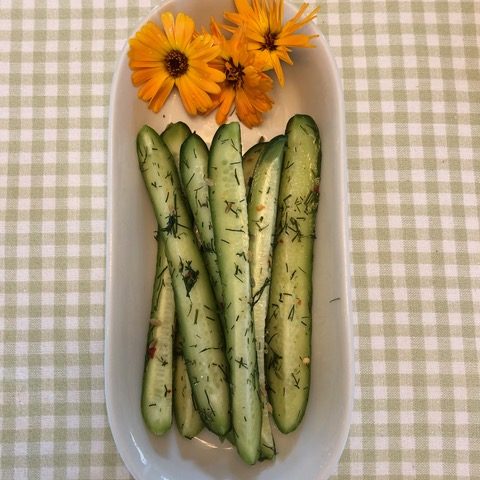 Quick & Slightly Spicy Cucumber Pickles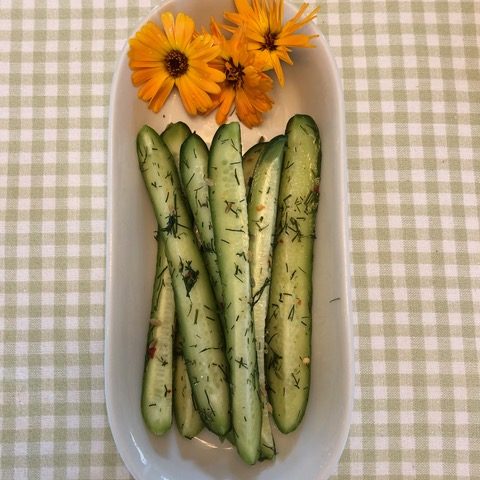 If you've got a few hours, you can make homemade pickles that will put a tangy smile on everyone's face! And there's no cooking needed! These pickles are the perfect accompaniment to all things jerk! BTW – this brine works on any crunchy vegetable.
Makes about: 24 spears
Time: Prep time: 5 minutes. Marinate: 1 to 6 hours

Ingredients
¼ cup rice vinegar (or substitute white wine vinegar)
2 tsps white sugar
1 garlic clove, smashed
½ tsp crushed chile
1 tsp salt (or to taste)
1 tsp pepper
1 lb (450 grams) Persian cucumbers (about 6) cut lengthwise into quarters or sixths
2 Tbsp chopped dill
2 Tbsp freshly squeezed lemon
Instructions
Mix together the vinegar, sugar, garlic, chile, salt and pepper in a large mixing bowl. Add the cucumber spears and toss well. Refrigerate for a minimum of 1 hour and up to 6 hours.
Add the dill and lemon just before serving. Mix well. Adjust salt and pepper to taste.