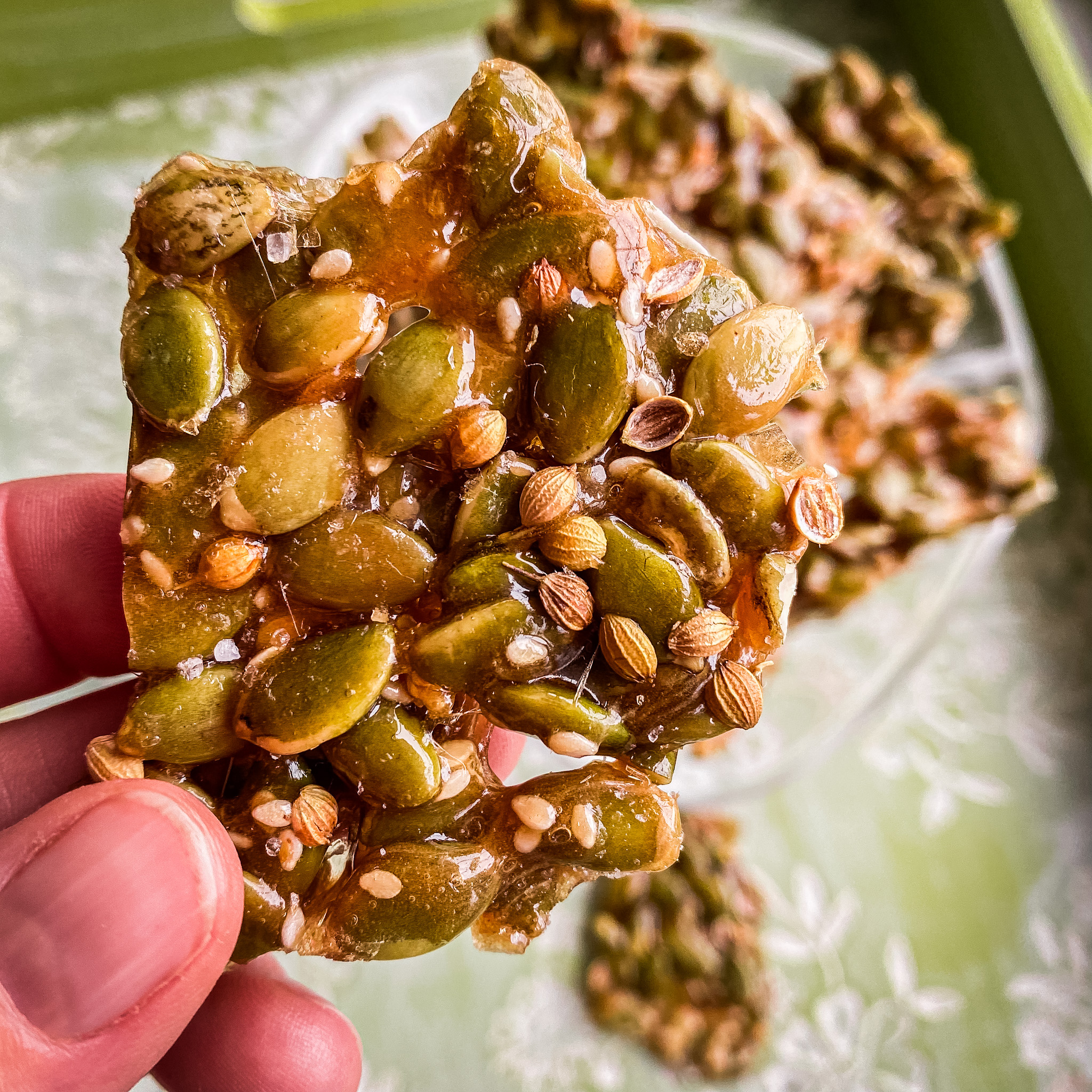 Pepita Brittle with Coriander and Seasame Seeds
If you haven't made a nut brittle before, it can be a bit intimidating. But it's totally worth it for this unique twist to the usual peanut brittle. It's a lovely treat to serve at the end of a meal with tea or alongside a digestif, on the side of a cheese plate or make up a batch to give as a homemade hostess gift.
INGREDIENTS
1 Cup + 2 TBSP Brown Sugar
1 Cup White Sugar
2 TBSP Corn Syrup
½ Cup Water
2 Cups Pumpkin Seeds, hulled but still raw
1 TBSP Butter, plus a little extra for prepping the baking sheet and spatula
2 TBSP Sesame Seeds
2 TBSP Coriander Seeds, gently crushed
½ tsp Baking Soda
Kosher Salt Flakes to sprinkle *Optional
Note – you will need a candy thermometer 
DIRECTIONS
Prep a Silpat or baking sheet and a wooden spatula by greasing both with a dab of butter. Set aside.
Measure out the 1 TBSP of Butter, all three seeds (pumpkin, coriander & sesame) and the baking soda each in separate bowls so they are ready when the sugars are at the right temperature. Set aside (near the stove).

Combine the sugars, corn syrup and water in a medium saucepan. Stir to make sure the sugars are combined, and place on high heat (stovetop). Use a candy thermometer to monitor the temperature. Let boil (it will bubble a bit) until it reaches 290-295° F.

Remove from heat, and quickly add the butter, the soda, and the seeds (in that order) and stir to mix together. Pour the mixture out onto the prepped Silpat and use the pre-buttered wooden spatula to spread it out thinly. Sprinkle salt flakes right away if using.
Allow to cool for 20 minutes and break into pieces.