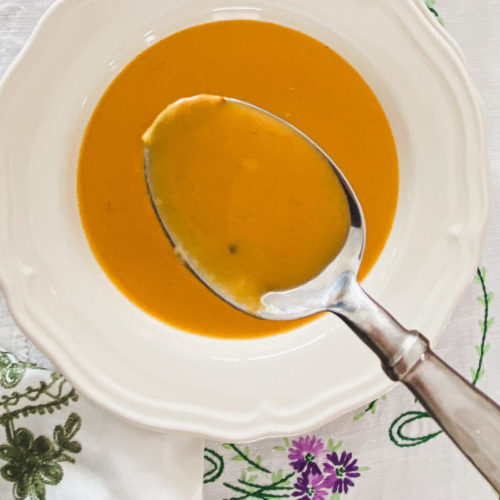 Pear & Cheddar Soup with Smoked Paprika
This soup has a kind of Goldilocks quality to it. While it's not like a rib-sticking hearty pot of stew, it's also not a bright, herbaceous sipper. It's not creamy. But it's also not brothy.
Thanks to the pectin in the pears, the texture is robust and silky with a slight fruity flavour. Adding the cheddar and smoked paprika gives it a kind of comfort-food warmth. And the combination seems "just right" for this time of year.
INGREDIENTS
(Serves 4 – 6 people, depending on portion size)
⅓ cup of butter
1 medium-sized onion, chopped into small pieces
2 cloves of garlic, chopped or minced
⅓ cup of all-purposed flour
2 tsp of smoked paprika (plus some to sprinkle on top when serving)
900 g – 1 litre of broth, either chicken or vegetable
4 ripe pears, peeled, cored and cut into chunks (if using canned pears, choose some that are unsweetened)
3 cups of old cheddar, grated
Fresh ground pepper, to taste
DIRECTIONS
Melt the butter in a mid-sized pot on the stove over medium-high heat, and sauté the onion and garlic for about 5 minutes.
Reduce the heat to medium-low. Mix in the flour and smoked paprika, then pour the broth in gradually. Continue to stir. Add the pears and let simmer in a covered pot for about 18 – 20 minutes.
Remove from heat and add the cheddar and pepper.
Puree the soup with an immersion blender. (If using a standing blender, let the soup cool and puree in batches.)
Using a low-heat setting, warm the soup before serving.
Serve with a fresh piece of bread or alongside a sandwich or salad. (Tuna melts and grilled cheese are both highly recommended.) And a slightly smaller portion makes for a flavourful appetizer before a meal. It keeps well either in the fridge (for a few days) or in the freezer for a few weeks.