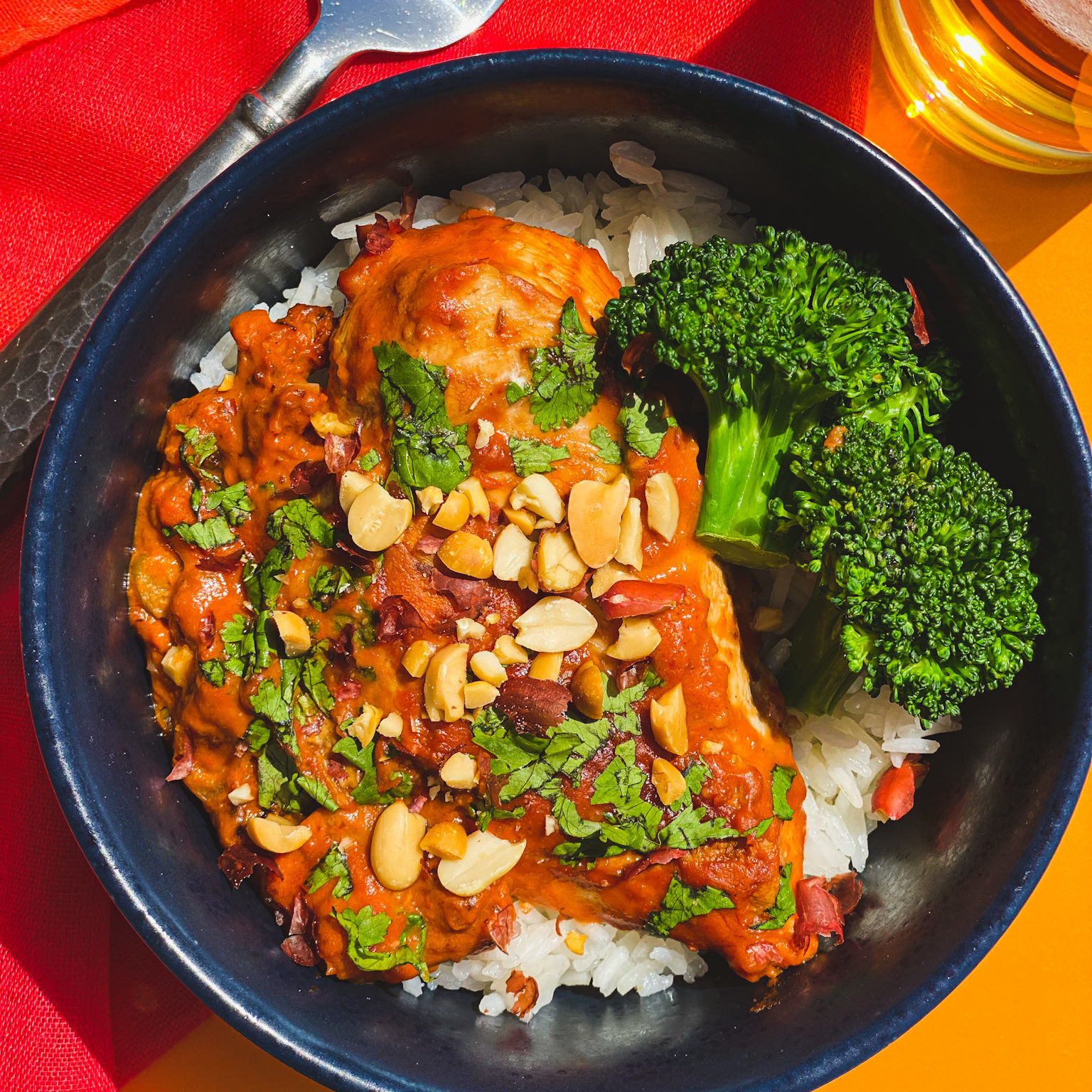 Peanut Butter Chicken with Cumin
While natural peanut butter, soya sauce and tomato are all familiar tasting ingredients, the blended combination tastes warm and deliciously exotic. Add extra chile flakes if you like an extra 'heat' and plated on a bed of rice, topped with some roughly chopped peanuts and fresh coriander.
INGREDIENTS – Chicken
4 Chicken Breasts (or 8 chicken thighs, skins removed)
1 ½ TBSP Soy Sauce
1 TBSP Canola Oil
2 Shallots, finely chopped
3 Garlic Cloves, minced
2 tsp Minced Ginger
1 tsp Cumin, roughly ground
Juice of 1 lime
Sea Salt to Taste
Cilantro, finely chopped to serve
Peanuts, roughly chopped, to serve
INGREDIENTS – Sauce
½ 

Cup

 

Natural Peanut Butter

1 Can (400 g) Crushed Tomato

1

Cup of Chicken Stock

1

TBSP H

oney

1

 

tsp

ground Cumin

1 tsp ground Coriander

 

A pinch of Chile Flakes *optional to add an extra pinch for a bit more heat
DIRECTIONS
Mix the lime juice, soy sauce and cumin in a large bowl. Cut the chicken into mdium-large pieces and let marinate in the mixture (15 minutes to upto 2.5 hours) and set aside (put in the fridge marinating for more than 15 minutes).
In a separate medium-sized bowl, combine the ingredients for the sauce and set aside.
Heat a large frying pan on medium-high heat, add the oil and then the chicken mixture. (Wear and apron or stand back a bit as the soya sauce will cause it to spatter.) Cook, to brown nicely turning after 5-6 minutes. Cook for a total of 10 minutes.
Add the shallots, stiring so that they get to the bottom of the pan. Let cook for a couple minutes and then add the garlic and ginger.
Once the garlic and ginger have had a chance to heat up, add the sauce to the mix. Cook on a reduced heat for another 8 – 10 minutes. The sauce will start to thicken.
Serve on a bead of rice, and sprinkle cilantro and crushed peanuts on top.