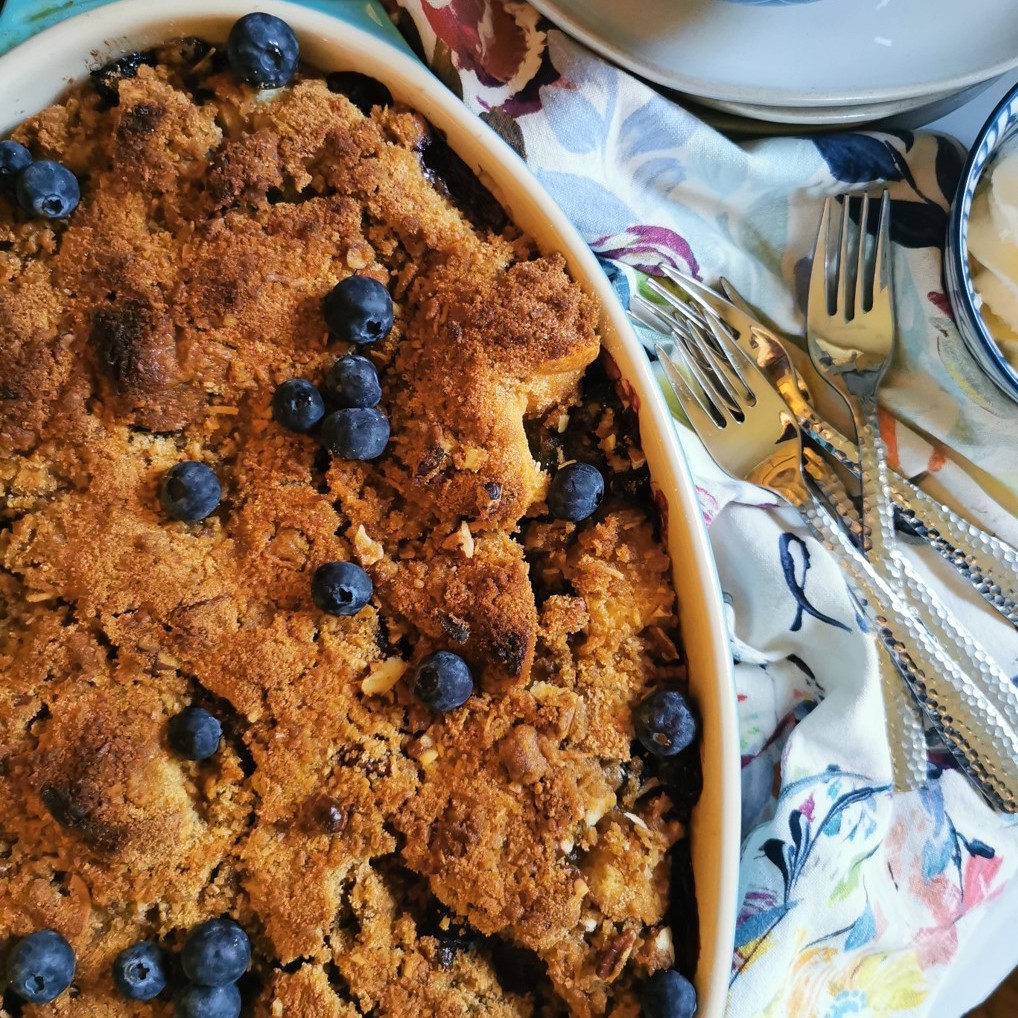 Overnight French Toast Casserole
Sunday brunch is the best, but getting up early to prepare Sunday brunch isn't. And the timing for breakfast foods to feed a crowd can be tricky. This decadent make-ahead brunch dish goes in the fridge the night before so you can sleep in a little longer.
It's rich and creamy, with berries that add a nice little burst of fruit in every bite. And the nutty crisp topping with that warm tasty flavour of Scorpios Kiss seals the deal.  (And even better because everyone's "French Toast" is ready AND hot at the same time!)
CASSEROLE – INGREDIENTS
454 g Loaf Crusty Bread or Raisin Bread, cubed into
10 Eggs
2 Cups Heavy Cream
1 Cup Milk
¼ Cup White Sugar
¼ Cup Maple Syrup
2 tsp Vanilla
2 tsp Scorpios Kiss
¼ tsp Kosher Salt
1 Cup fresh Blueberries
TOPPING – INGREDIENTS
½ Cup Cold Butter
1 Cup Brown Sugar
1 Cup Pecans, chopped
½ Cup Shredded Coconut (optional)
½ Cup All-purpose Flour
1 tsp Scorpios Kiss
Pinch of Kosher Salt
DIRECTIONS
Butter or grease a 9×13 baking dish, set aside.
Cube the bread into 5 cm pieces and place in prepared pan.  Scatter the blueberries in and around the bread.
In a large bowl gently beat the eggs and then whisk in cream, milk, sugar, maple syrup, vanilla, salt and Scorpios Kiss.
Pour over top of bread and press down any pieces sticking out.  Cover and refrigerate minimum 4 hours or overnight.
In the morning, preheat oven to 375.  Remove the dish from fridge and let stand at room temperature for 30 mins before baking.
In a medium sized bowl, prepare the topping.  Mix the brown sugar, pecans, coconut if using, flour, Scorpio's Kiss and salt together.
Using a grater, grate the cold butter into the bowl and mix together until crumbly. Sprinkle mixture over the bread.
Bake in the upper 3rd of the preheated oven, uncovered for 35-40 minutes until the top is nice and browned and the middle is set but still soft.  Remove from oven and cool slightly.
Serve warm with some fresh whipped cream, a dusting of powdered sugar and maple syrup if desired.
Best served the day it's made.