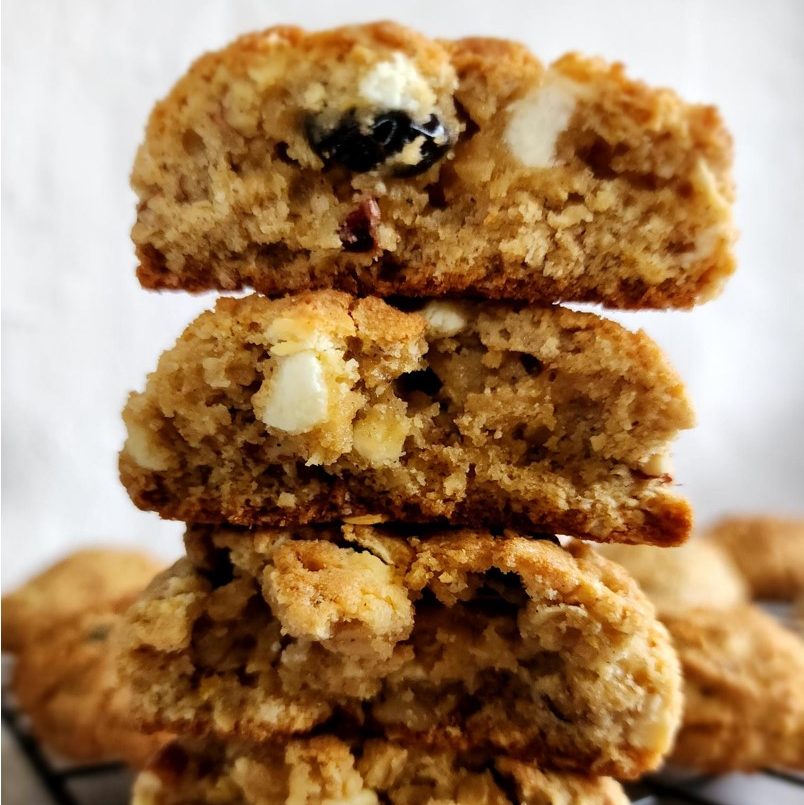 OATMEAL CRAISIN COOKIES
What's the perfect cookie? Soft n' chewy? Crispy?
We think it's the combo of all of the above!
Here's your perfect cookie recipe with a few secret ingredients and methods that result in a thick cookie that's crisp on the edges and soft, chewy and gooey in the middle.
Feel free to riff on this recipe.  Make them classic (just adding raisins or just chocolate chips).  So many options you'll want to make them again and again.  Plus, you can ball and freeze the cookie dough to have on hand and bake off quickly at any time.
INGREDIENTS
1 Cup Unsalted Butter, room temp
1 Cup + 2Tbsp Brown Sugar
½ Cup White Sugar
2 Eggs, room temp
2 Cups all-purpose Flour

1½

 

cup

 

Rolled Old-Fashioned Oats

½ Cup cake Flour
1 tsp Cornstarch
¾ tsp Baking Soda
½ tsp Salt
1 tsp Scorpios Kiss spice blend
¾ Cup Craisins
¾ Cup Mini White Chocolate Chips
¾ Cup Pecans, toasted  & chopped
METHOD
Preheat oven to 410°
In a bowl of a stand mixer or a large bowl using an electric hand mixer, cream together butter and sugars until light and fluffy. At least 4-6 minutes, stopping the mixer and scraping down the sides a few times. Add eggs one and a time, scraping the sides of the bowl between additions.
In a medium bowl, use a whisk to blend both flour, oats, cornstarch, baking soda, salt, and Scorpios Kiss together until it's well blended and there are no lumps.
Add dry ingredients to the wet, and mix until almost combined.  Add in craisins, white chocolate chips and toasted pecans. Mix again just until combined. Do not over-mix!
Scrape down the sides of the bowl with a spatula and make sure there are no pockets of flour hiding.
Chill dough for 15 minutes in the refrigerator.
Using an ice cream scoop or two spoons, scoop dough into large balls and place on a cookie sheet lined with parchment. Lightly press the top of the dough to smooth it out.
Bake for 8-11 minutes until golden brown on top.
Remove from oven and let rest on the tray for 10-15 minutes.  Enjoy!