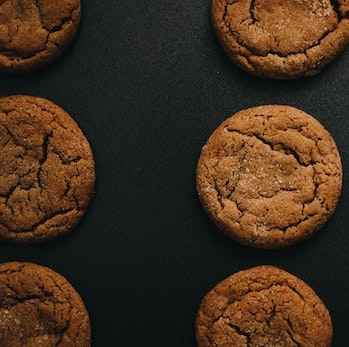 Molasses Cookies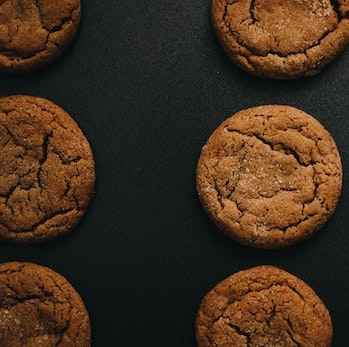 These warm-spiced cookies are perfect for a cookie exchange or to have on hand for the holidays. (Also delicious made into an ice cream sandwich with vanilla ice cream!)
INGREDIENTS
1 ½ Butter (unsalted & room temperature)
1 Cup Sugar (white) + 1 Tbsp
1 Cup Brown sugar (packed)
½ Cup Molasses
2 Eggs (room tempurature)
4 ⅓ Cup Flour
3 ½ tsp baking soda
2 tsp Cinnamon
2 tsp Scorpio's Kiss
1 tsp Ginger (ground)
1 tsp Salt
INSTRUCTIONS
Whisk flour, soda, spices and salt together in a medium bow.
Separately, using a mixer (hand or stand mixer), cream butter and sugars together well. (about 2-3 minutes)
Add eggs, one at a time, then molasses, mixing slowly with each addition.
Place dough in a ziplock bag or sealable container in the fridge for 1 hour (or the freezer for 30 minutes).
Pre-heat oven to 350 degrees F. Line a cookie sheet (or two) with parchment paper. Sprinkle the extra Tbsp of sugar on a plate.
Form dough into small balls, about 1 ¼" in diameter, and roll in sugar. Place on cookie sheet, with about 2″ space between each ball.
Bake for 8-10 minutes. The cookies will crack on the top. Remove from the oven and let cool on pan for about 3 minutes. Transfer to cool on a wire rack.