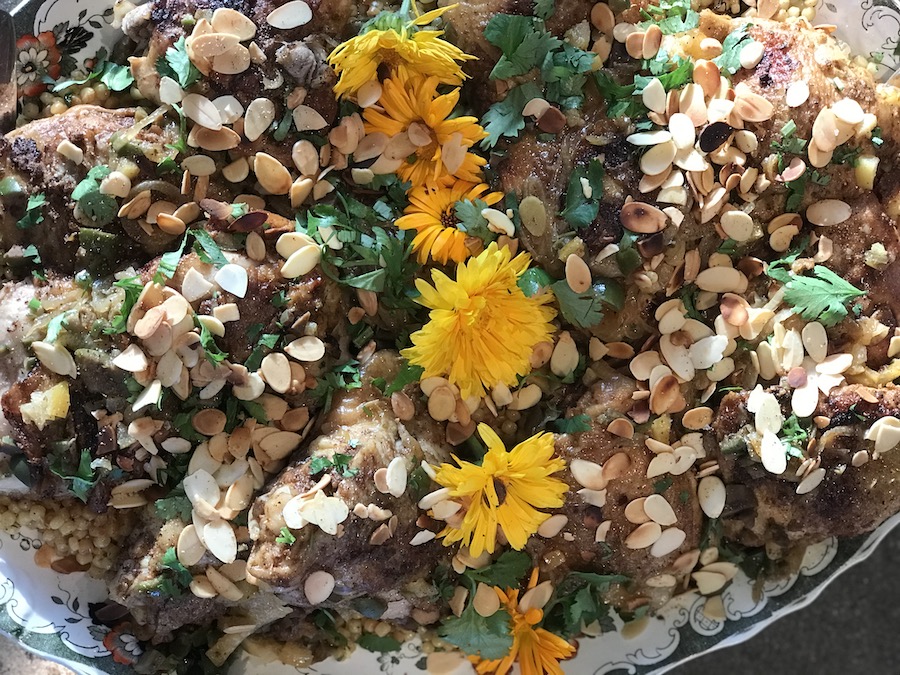 Marrakesh Chicken Tagine with Olives, Lemons and Couscous
This classic Moroccan dish is utterly delicious, and because it calls for chicken thighs, it's also relatively quick to make. It can be made in the traditional manner in a tagine, or in a large covered skillet or Dutch oven. Preserved lemons can be purchased at specialty stores, or you can easily make them at home an hour before. Enjoy!
Serves 4
Time: Cooking time: 1 hr + marinating time of 3 – 4 hours (or overnight)
Chicken Tagine
5 cloves garlic, minced
2 Tbsp (40 ml) Dial R for Ras blend
½ tsp (2.5 ml) each salt and freshly ground black pepper
8 chicken thighs with bone in, skin on
2 Tbsp (40 ml) extra virgin olive oil
2 medium onions, sliced thin
1 cinnamon stick (or 1 tsp ground cinnamon)
3/4 cup (185 ml) cracked green olives (or kalamata), pitted and halved
1 preserved lemon (recipe below), rinsed and cut into quarters
1 cup (250 ml) chicken stock
1 Tbsp (20 ml) honey
Juice of 1/2 lemon
¼ cup (60 ml) slivered, toasted almonds
1 Tbsp (20 ml) chopped cilantro (or flat-leaf parsley)
Couscous
1 ½ cups (375 ml) couscous (We love Israeli couscous! Follow cooking directions on package) 
3 cups (500 ml) chicken broth (or vegetable broth or water)
1 tsp (10 ml) Dial R blend
2 Tbsp (40 ml) chopped cilantro 1 tsp (5 ml) grated fresh lemon zest
Tagine
Mix garlic, 2 tablespoons of Dial R blend and 1/2 teaspoon of salt and pepper. Rub chicken thighs with mixture (under the skin as well as on top), cover, refrigerate and marinate 3 to 4 hours or overnight. 
Heat oil in heavy skillet over medium-high heat until it begins to smoke. Brown the chicken pieces, skin-side down in a single layer until golden, about 5 minutes, then flip the chicken over and brown the other side, about 4 minutes. Transfer to a platter. 
Reduce heat to medium. Add onions to the skillet, and cook over medium heat about 10 minutes, until lightly browned. Transfer to tagine or Dutch oven (if you're using either), or leave in the skillet. Add the cinnamon stick.
Place chicken on top of onions. Scatter with olives and preserved lemon pieces. Mix stock, honey and lemon juice. Pour over chicken.
Cover tagine or skillet. Bring to a boil, then reduce heat to low and cook about 30 minutes, until chicken is done. Taste the sauce and adjust seasoning as desired with salt, pepper and more lemon juice.
Couscous
While chicken cooks, bring chicken broth and Dial R blend to a boil in a saucepan. Add couscous and remove from heat and allow to sit for 5 minutes.
Couscous should be light and fluffy. Using a fork, separate the couscous. Stir in cilantro and lemon zest. Mound couscous on a platter.
Top Israeli couscous with chicken thighs and pour sauce over the chicken. Scatter cilantro and toasted almonds on top and serve.
*Quick Preserved Lemons (can be made 1 week ahead and stored in refrigerator)
2 lemons, cut into quarters
1 cup (250 ml) water
1 Tbsp (40ml) coarse sea salt
Combine water and salt in a small saucepan. Bring to a boil over high heat, stirring to dissolve salt. 

Add lemons, and reduce heat to a simmer. Cook for 30 minutes or until liquid is reduced to ½ cup and lemon rind is tender. Remove from heat, and cool to room temperature.
Rinse the lemons well under water. Chop the pulp and rind into small pieces.