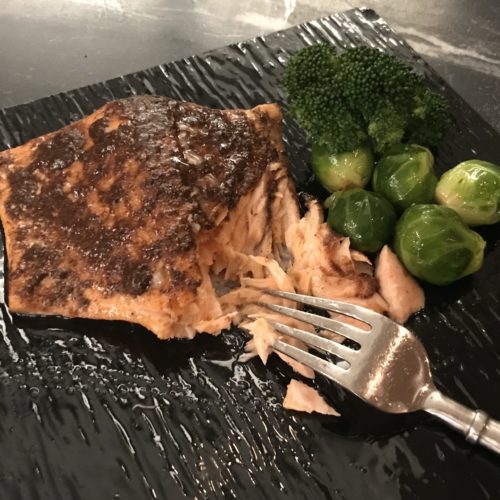 Maple Salmon Fillets
Serves 2 people.
So easy and so delicious! This is a perfect dinner when you are entertaining and want a dish that is uncompromising yet demands very little prep time. Server either warm or room temperature, this goes beautifully with a salad, brussel sprouts or broccoli. (We like to use some of the spices on the greens, too!)
2 fillets of salmon
2 Tbsp of olive oil
1 Tbsp of maple syrup
½ tsp Scorpio's Kiss
½ tsp salt
Preheat the oven to 375ºF.
Mix olive oil and maple syrup.
Place the salmon fillets into a baking dish. Brush olive oil/maple syrup combo over the fillets.
Sprinkle salt and Scorpio's Kiss over the tops of the salmon.
Bake for 25 minutes in preheated oven (depending on thickness and preference, time may vary slightly).
Variations – If you are like us, and absolutely love the flavour of Cardamom, you can increase the amount of Scorpio's Kiss. Or if you would like to add a bit of heat to it, add a pinch of cayenne.