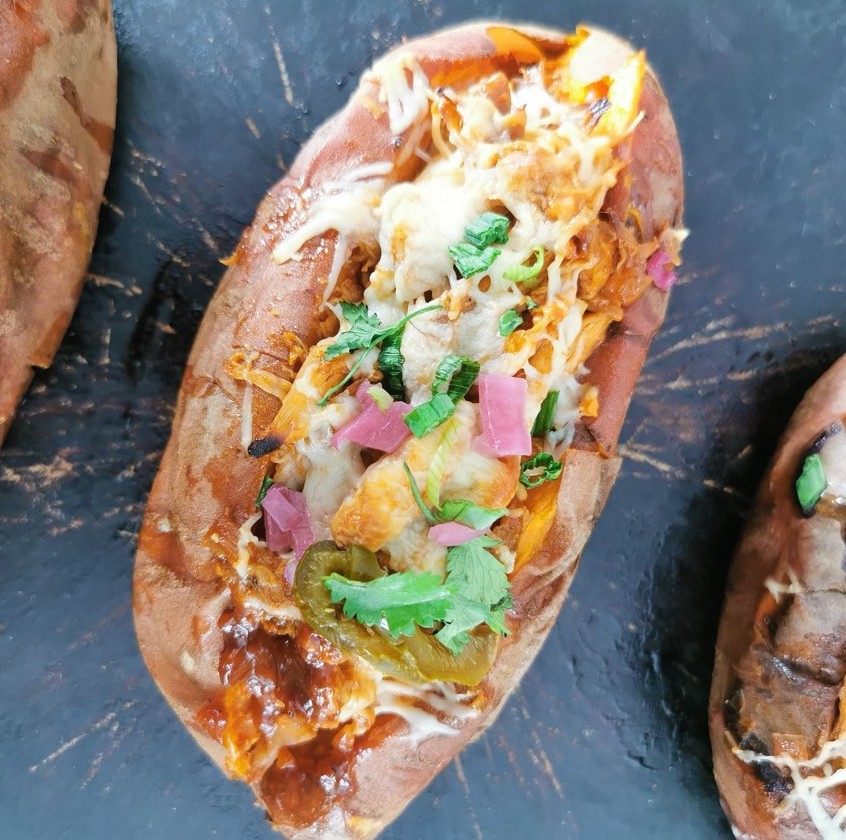 Lonestar BBQ Chicken Stuffed Sweet Potatoes
These stuffed sweet potatoes are a flavour-packed, healthy, gluten-free, quick dinner, great for a busy weeknight that the whole family is sure to love. By using a rotisserie chicken from the deli at your local grocery store, they come together so fast and are so pretty and colourful on your plate. You can customize the toppings to your liking, but we think this is a pretty good combo!
You can either make Oven-baked sweet potatoes or InstantPot sweet potatoes for this recipe.
(You may want to make a double batch of this BBQ sauce because once you taste it, you'll want to put it on everything!)
Lonestar's Leap BBQ Sauce
(Makes about 2 Cups)
2 Tbsp Butter

1 small Yellow Onion, chopped

2 cloves Garlic, crushed

1 Cup Ketchup

½ Cup Red Wine Vinegar

¼ Cup Brown Sugar

½ Tbsp Lonestar's Leap spice blend

2 Tbsp Yellow Mustard

2 Tbsp Worcestershire Sauce

2-4 drops of Liquid Smoke *optional but highly recommended

Dash of Hot Sauce *optional but highly recommended
INGREDIENTS – Sweet Potato Assembly
6 Sweet Potatoes (roughly all the same size), cooked  

1 Whole Chicken, cooked rotisserie

1 Batch Lonestar's Leap BBQ sauce (see recipe above)

1 Cup Smoked Cheddar Cheese, grated

¼ Cup Butter

Cilantro or other chopped fresh herbs, for garnish

Pickled Red onions (find a great quick recipe

here

) *Optional

Pickled Jalapenos *Optional
DIRECTIONS – BBQ SAUCE
In a medium-sized saucepan, melt the butter over medium heat. Add the onion and sauté for 5-6 minutes, until soft and just beginning to turn brown.

Add the garlic and continue cooking for another 2-3 minutes. The onions should be a light gold colour, and the garlic should not burn.
Reduce the heat to low and stir in the remaining ingredients. Cook for 15-20 minutes, stirring often. The sauce will thicken up, but mix in a bit of water to dilute it slightly if it's too thick.
Keep warm.
 Extra sauce can keep up to 2 weeks, refrigerated.
SWEET POTATO ASSEMBLY
Shred the whole cooked chicken, leaving behind the skin and add to a large bowl. Add half of the BBQ sauce to the chicken and gently stir to coat the chicken. Be careful not to mash the chicken.

Cut your baked sweet potatoes down the middle (the long way)and place them on a foil or parchment paper-lined baking tray. Drop a dab of butter inside each potato.
Stuff the sweet potatoes with shredded bbq chicken, sprinkling with shredded smoked cheddar. Using the oven broiler melt the cheese (about 1 minute). Keep your eye on them!
Remove from the oven and add your toppings of choice and top with a little extra BBQ sauce.