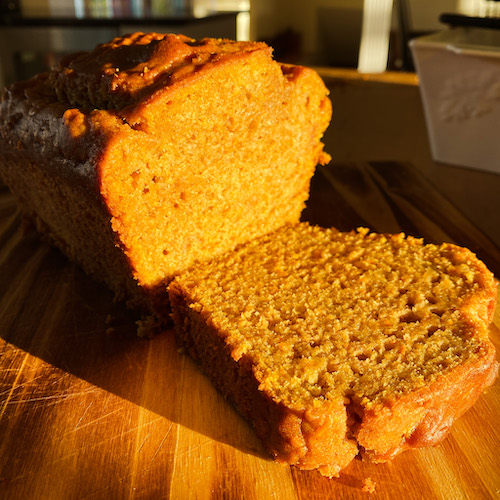 Harvest Loaf
Pumpkin, apples and carrots – what a combo! So seasonally appropriate and so scrumptious! And, depending on what ingredients you have on hand (or what your flavour preferences are), you can dial up the apple, carrot, or pumpkin however you like.
Beware, the fabulously moist texture and flavour combination will have you slicing off just one more tiny piece all day long.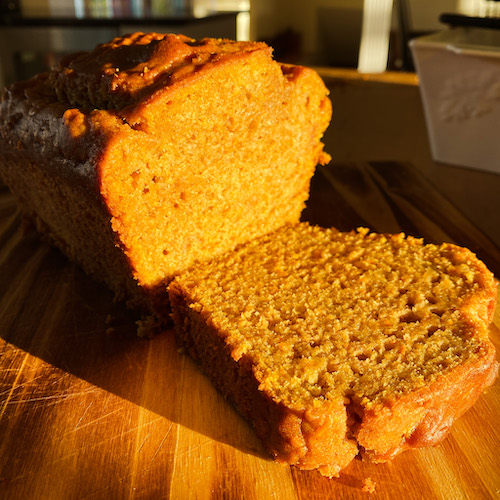 INGREDIENTS
1 ¾ Cups of Flour
2 ½ tsp Lucky Spice
1 tsp Baking soda
½ tsp Salt
½ Cup Canola oil or coconut oil, if you prefer
2 eggs, room temperature
½ Cup Sugar
½ Cup (packed) Brown Sugar
½ Cup Pumpkin Purée (canned totally works)
1 Cup (packed) of Apple, peeled and grated
¾ Cup Carrot, peeled and grated)
2 Tbsp Milk
¾ Cup Walnuts, chopped *Optional
DIRECTIONS
Set the oven to preheat at 350 degrees and butter a loaf pan (9×5″, or equivalent). Add a strip of parchment paper at the bottom of the loaf pan, for extra easy removal, if you like.
In a large bowl, whisk together the flour, spice, baking soda and salt.
In a stand-up mixer or a separate bowl, mix together all the other ingredients.
Add the wet ingredients to the dry, and using a spatula gently mix until just combined.
Bak for 55 – 60 minutes, inserting a toothpick to check that it's done.
Cool in the pan before serving.