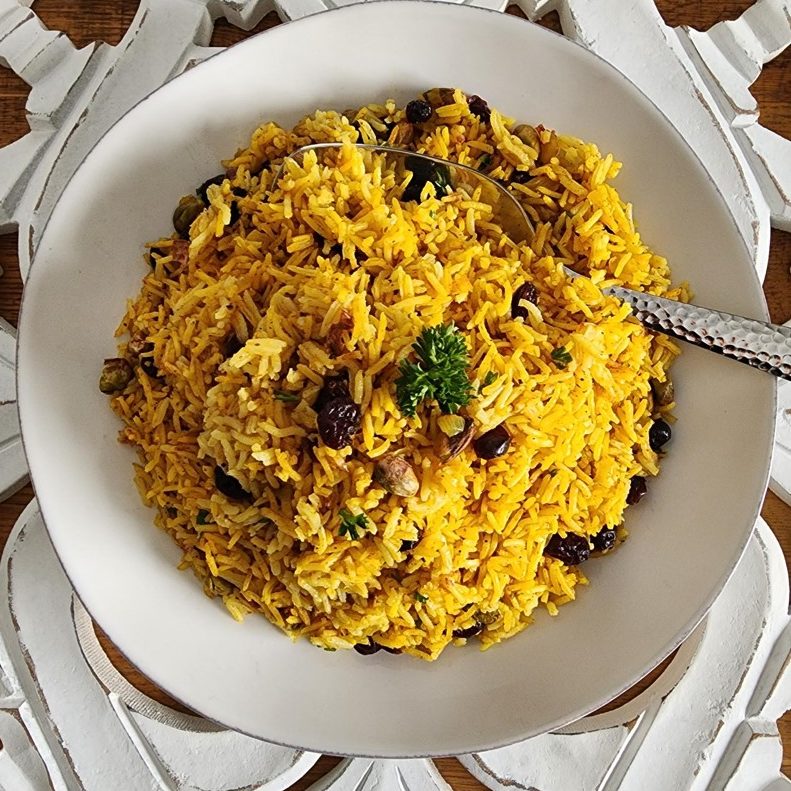 Gorgeous Jewelled Rice
It's as tasty as it is beautiful!  Soft, fluffy, delicately flavoured rice that is cooked in stock to give it a depth of flavour, along with being gently spiced with the flavours of Scorpios Kiss.  The cranberries, pistachios, orange zest and mint add a nice pop of flavour, along with a great texture and freshness to each bite.  Jewelled rice can be a daunting dish to make, but this method is not complicated and comes together fairly quickly.
It's delicious as a side with chicken, lamb or even fish.  And you can also use veggie stock to make this Vegan and serve it with your choice of Vegan protein.  Add this Jewel of a dish to your next meal and dazzle everyone around the table.
INGREDIENTS
1 small Onion, peeled and finely diced
1Tbsp Olive Oil
1Tbsp Butter
1 ½ Cup Basmati Rice (don't rinse it)
1 Tbsp Tomato Paste
¾ tsp Salt
1 tsp Cardamom
½ tsp Turmeric
Pinch ground Cumin
Pinch Scorpios Kiss spice blend
2 ¼ Cups Chicken Stock
Add-ins
½ Cup dried Cranberries and/or Golden Raisins
¼ Cup Chicken Broth, hot
½ Cup Pistachios, shelled
Zest of 1 Orange
Fresh Mint and/or Parsley, finely chopped as garnish
METHOD
In a mortar and pestle, lightly crush the cardamom.  Add crushed cardamom and all other spices to a small bowl and blend together.  Set aside.
To a medium heavy pan or Dutch oven over medium heat,  add the oil and butter- saute the onion for 3-4 minutes until soft and translucent.
Add rice to the pan and stir for 1 minute until the rice looks glossy.
Stir in the spices and stir for 1 minute more.
Add the tomato paste and broth. Stir to combine. Cover the pan with a lid and bring to a simmer, immediately turning the heat down to low. Cook for 15 minutes.
Without removing the lid, remove the pan from the heat and let it sit undisturbed for another 10 minutes.
While the rice is cooking, soak the cranberries or raisins in the hot broth.
Remove the lid from the rice, fluff with a fork and add in the softened cranberries or raisins, pistachios and orange zest. Garnish with fresh mint or parsley, and serve.