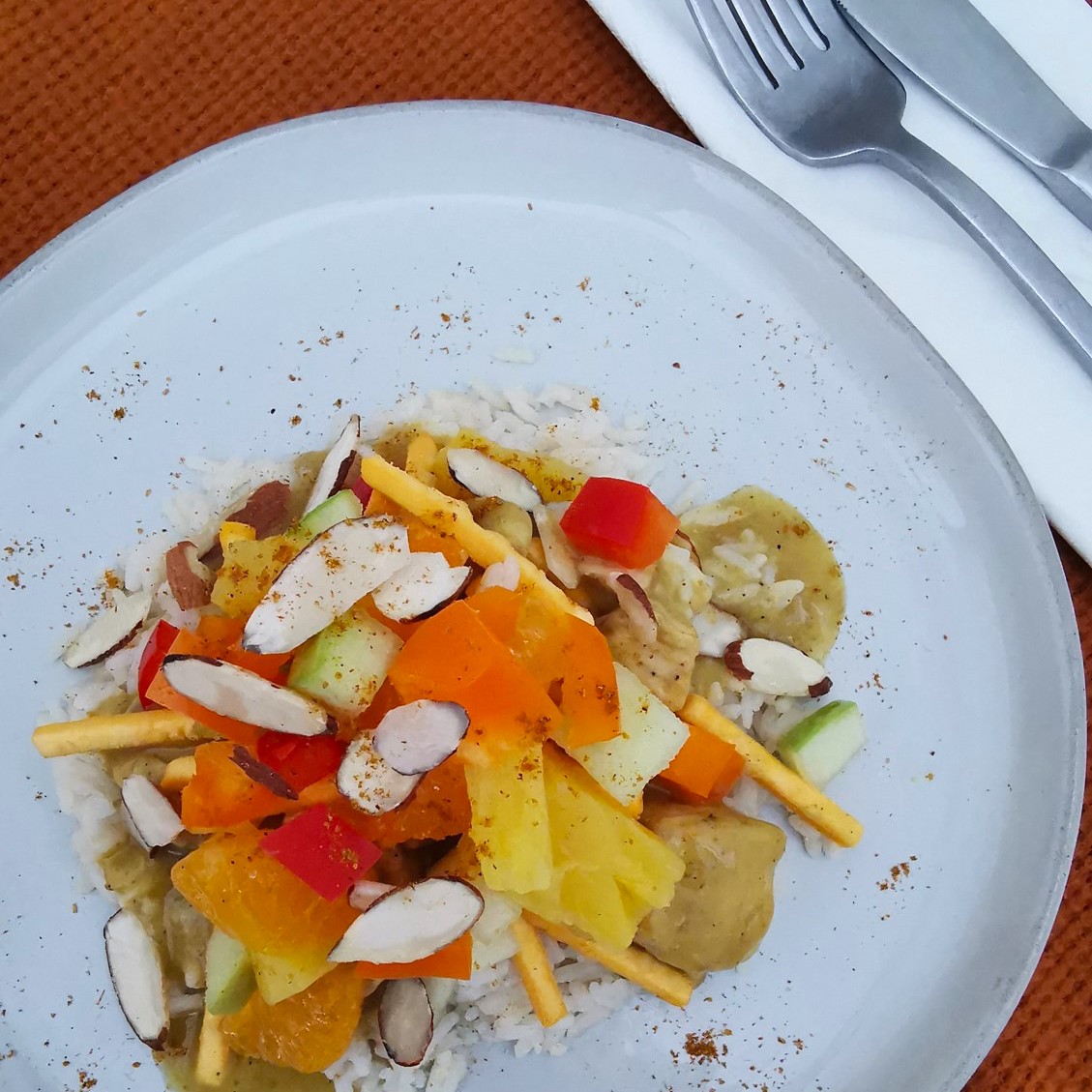 Gorgeous Javanese Inspired Rice Bowl
Serves 4
This chicken curry dish is like a party in your mouth and it's so pretty on your plate. It's also delicious the next day, so you may want to double the recipe!  It has so many unexpected combinations, but they all work so fabulously together.
It hits all the notes, hot, cold, sweet, savoury, creamy with a little crunch.  You may think you want to skip a component, but it's really worth trying it all together!
When your plating it, start with small portions of each, as it can turn into a big plate quickly!
It's a great dish for a crowd, as everything can be prepped ahead of time.  It's a fun, interactive, unique, build your own dish that is sure to become a family favourite!
(Not into the fruit combination? Serve it with egg noodles for a poultry variation on stroganoff.)
INGREDIENTS
Chicken Curry
2 Tbsp Coconut oil
4 Chicken breast, cubed
1 Tbsp Brick Lane Takeaway
½ tsp Salt
½ tsp Black Pepper
2 Cans Cream of Chicken Soup
Toppings
1 can Mandarin Oranges, with juice
1 can Chunk Pineapple with juice
1 Granny Smith Apple, diced
—
1 Red Sweet Pepper, diced
1 Orange Sweet Pepper, diced
—
2 Cups Chow Mein noodles
Slivered Almonds to serve
DIRECTIONS
Prepare your rice and keep it hot.
In a dutch oven or heavy-bottomed saute pan with a lid, heat oil over medium heat.
Add chicken, salt, pepper and brick lane take away spice blend.  Saute until chicken is browned.
Add cream of chicken soup to the chicken (don't add any more liquid) continue to cook, stirring often, until the chicken is cooked through.
Cover and simmer on low for 30 minutes, stirring occasionally.
While the chicken is simmering, prepare the toppings.
In a medium-size bowl, add the mandarin oranges, pineapple chunks and diced apple.
Add just enough juice from the cans to cover the fruit mixture. Cover and keep cold until ready to serve.
In a small bowl, add the diced peppers. Cover and keep cold until ready to serve.
ASSEMBLY
This is a layered dish.  Start by adding a scoop of hot rice to your plate. Next, add a handful of chow mein noodles, then enough chicken and curry sauce to cover the rice and noodles. On top of the curry, add a few spoons of the fruit mix (without any liquid), a spoon of the peppers and a little sprinkle of slivered almonds.
Top it all off with a dash of Brick Lane Takeaway.