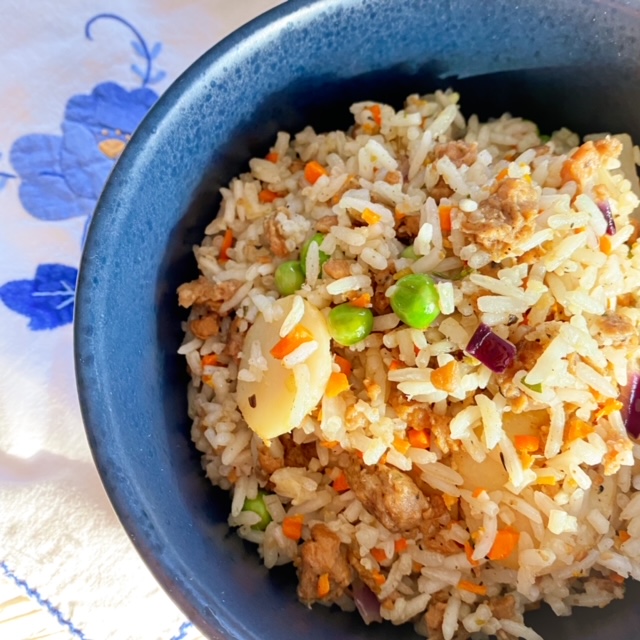 Fried Rice with Sausage & Ginger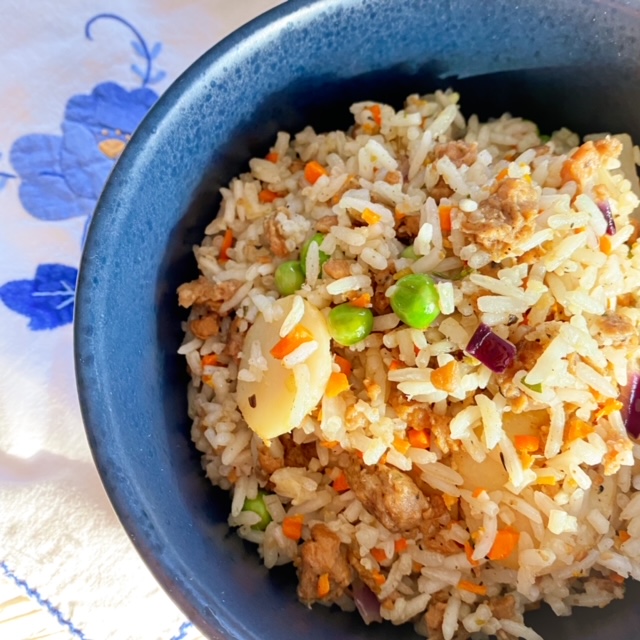 This tasty fried rice dish is delicious with pork sausage or a plant-based sausage and lends itself well to any number of left-over veggies you have on hand. (And it works well as a combination of rice and cauliflower rice.)
INGREDIENTS
3 Cups Rice, pre-cooked and cooled
2 Tbsp Peanut oil
½ Cup Red Onion, diced
2 Tbsp Ginger, freshly minced
1 ½ Tbsp Blue Duke, plus some as sprinkle just before serving
½ Cup Water Chestnuts, Sliced and chopped into pieces
1 – 2 Sausages, casing removed and cooked as a crumble
⅔ Cups Edamame, cooked and shelled (fresh peas also work)
½ Cup Carrots, finely grated
½ tsp Salt
Pinch of Blak Pepper, freshly ground
1 Tbsp Lemon zest
⅓ Cup Green Onions, sliced finely
DIRECTIONS
In a large saute pan, heat the peanut oil over high heat until nearly smoking.
Add carrots, and let cook for 30-40 seconds. (Watch out – it will splatter a bit!) Then add the onion, ginger, water chestnut, cooked sausage crumble and edamame, stir-frying each for 30 seconds before adding the next.
Add the rice, Blue Duke, salt and pepper and continue to stir over the heat.
Serve warm garnished with a sprinkling of Blue Duke and green onions.