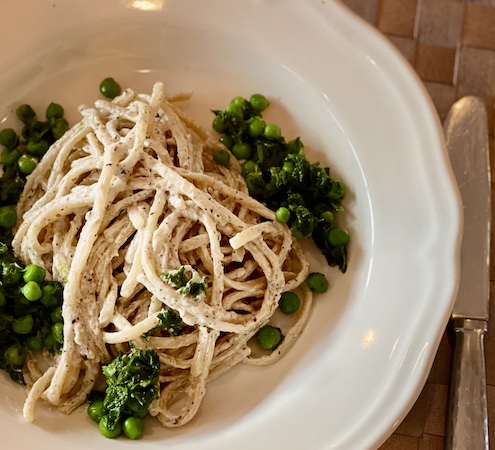 Fettuccine Alfredo with Umami & Spring Vegetables
This versatile quick dinner is always a treat and can be made in two different ways. Both are relatively light, but one option has dairy. This recipe is super flexible though and you can also make it with overcooked cauliflower for a healthier option. Both are tasty!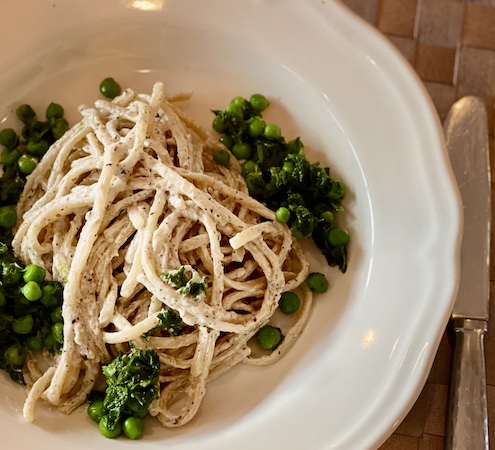 Light Fettuccini Alfredo (with dairy)
12 ounces fettuccine (or any pasta shape)
1.5 Tbsp extra virgin olive oil or butter
2 cloves garlic, pressed or finely-minced
2 Tbsp all-purpose flour
¾ cup chicken stock
1 tsp Rather than Flowers
1 cup low-fat milk (I used 2%)
3/4 cup freshly-grated Parmesan cheese
2 tsp Italian Seasoning
1/2 tsp salt
1/4 tsp black pepper
(optional toppings: chopped fresh parsley, extra Parmesan)
Cook pasta al dente according to package directions.
Heat olive oil (or melt butter) in a large pan over medium-high heat. Add garlic and saute one minute, stirring occasionally.
Add flour, stirring to combine. This will start to bubble slightly as it cooks.
Add chicken broth (a little at a time), whisking to combine until smooth.
Whisk in milk, and bring the mixture to a simmer. Let cook for an additional minute until thickened, then stir in Parmesan cheese, Rather than Flowers, Italian Seasoning, salt and pepper until the cheese melted.
Keep sauce warm on reduced heat until pasta is cooked.
Drain pasta, then immediately add pasta to the saute pan with alfredo sauce. Toss to combine.
Serve topped with chopped fresh parsley and spring vegetables (photo shown has spinach and peas), seasoned lightly with additional Rather than Flowers.)
For anyone wanting a vegan or dairy-free option (that is also nut-free), be sure to check out this link. We recommend using the pasta water where it calls for 1 cup to make it a bit creamier. And add 1 – 1 ½ tsp of Rather than Flowers for that delicious mushroom flavour.