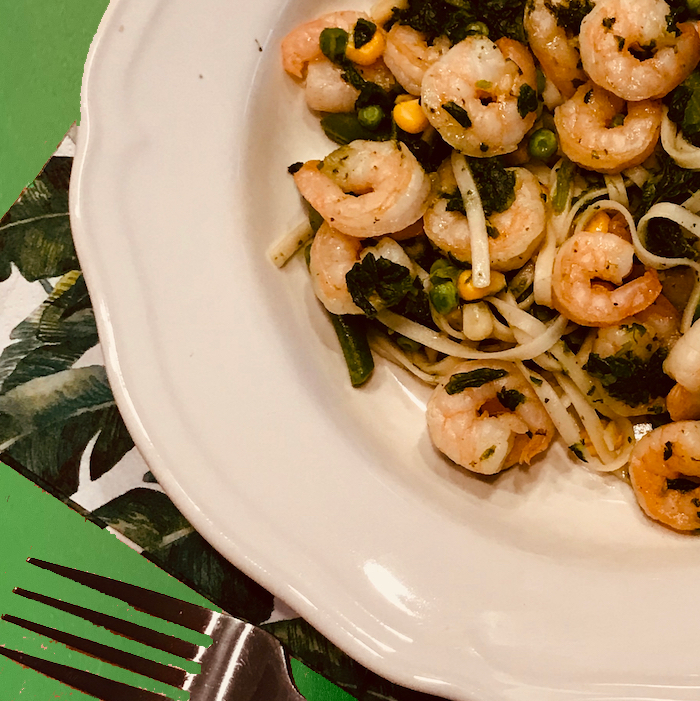 Exotic Shrimp and Noodles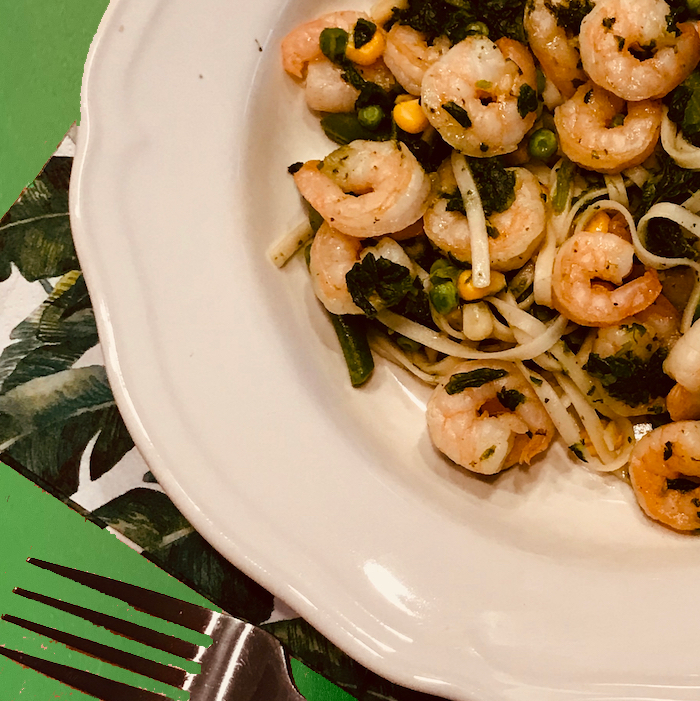 This is one of those quick to make dinners, with ingredients that we can keep stocked in the cupboard and freezer.
The shimp is also delicious done on skewers on a grill and served on salad or a bed of rice!
Prep time 20
Cook time 12 min
Total time 22 min
Serves 2
Ingredients – Stirfry
26 – 30 uncooked extra large tiger shrimp, peeled, deveined and tales removed (454 g)
100 g Asian style noodles (measurement is based on pre-cooked weight)
1 cup of Spinach, fresh and stems trimmed (can use 1/2 cup of frozen spinach, if needed)
½ – 1 cup other vegetables of your choice (broccoli florets, corn, snap peas, peas, asparagus, peppers)
1 Tbsp canola oil
1 Tbsp sesame oil
2 tsp minced ginger
Pinch of red pepper flakes
Ingredients – Marinade
⅓ cup of canola or avocado oil
1 Tbsp brown sugar
1 tsp soy sauce
1 clove of garlic, minced
2 tsp of The Spice Who Loved Me
Directions
Mix The Spice Who Loved Me together with the sugar, then whisk in the other marinade ingredients. (canola oil, fish sauce and garlic.) Put into a ziplock bag.
Defrost the shrimp (if frozen) and remove the tails. Add to marinade and put in the fridge for 2 hours.
Heat a skillet or wok with 1 Tbsp canola oil on medium heat. Remove the shrimp from the bag, and keep 2 Tbsp of the marinade (discarding the remaining).
Cook until the shrimp are pink (5-6 minutes). Remove from skillet and set aside.
Boil water for pasta in a separate pot. Cook pasta according to instructions. Stain and set aside.
In the skillet/wok add the sesame oil, 2 Tbsp of remaining marinade, minced ginger and vegetables. (If using frozen spinach it helps to thaw in microwave in advance.) Cook until soft but still some crunch (about 6-7 minutes) at a medium-high heat.
Add the noodles and shrimp back into the skillet, toss and heat through for 2-3 minutes.
Sprinkle with red pepper flakes and serve.