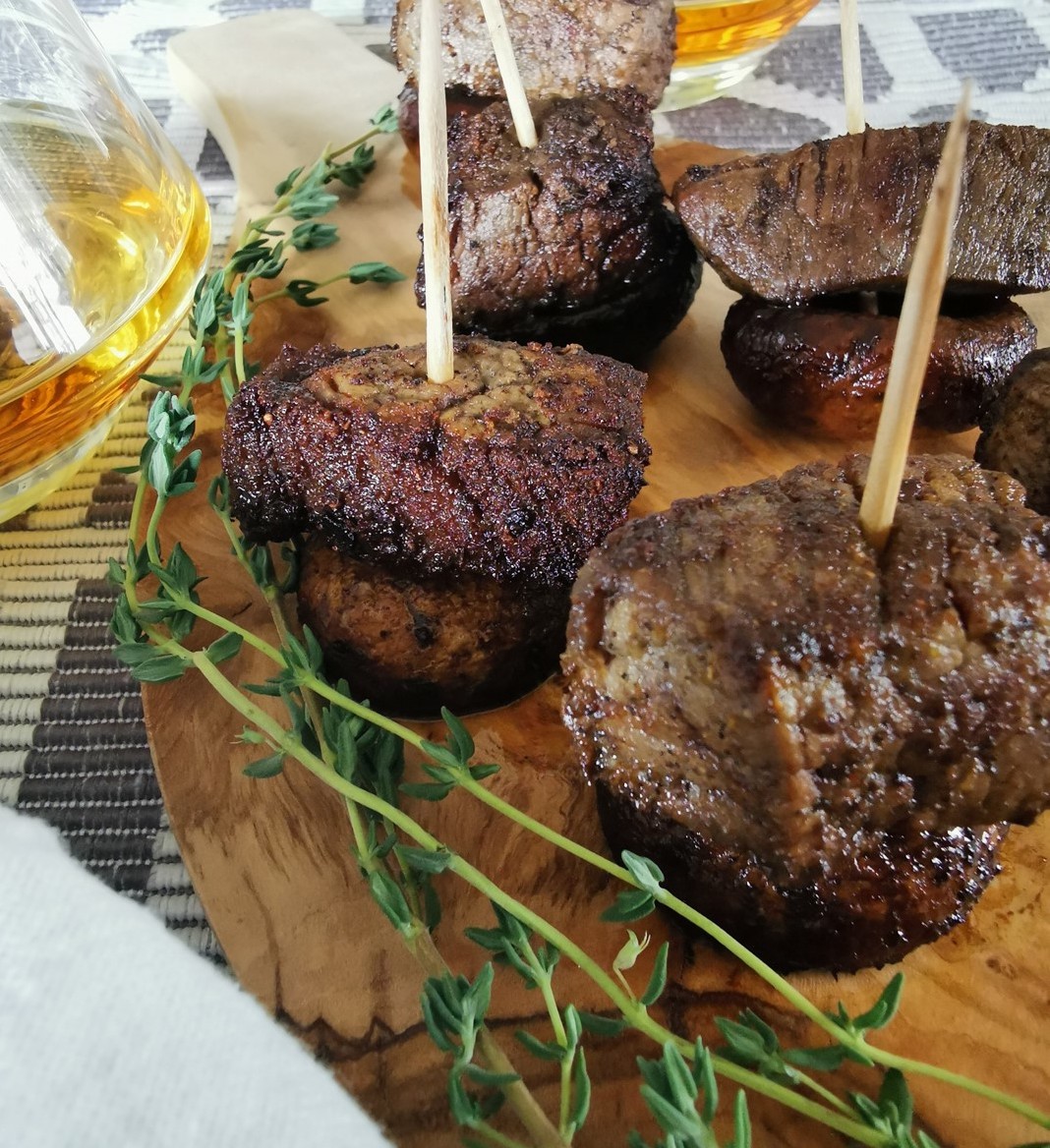 Drunken Steak and Mushroom Bites
Steak and mushroom bites will certainly wake up the tastebuds! There is a whole lot of flavour in a perfectly portions little bite.
These make a stylish addition to any cocktail party or outdoor event. This recipe calls for 2 steaks and will serve 4-6 as an appetizer or 2, as a meal.
Marinating the beef in Brandy not only gives the flavour a chance to permeate thru the whole bite but also makes the meat extra tender and oh so juicy! The addition of Rather Than Flowers adds a depth of flavour, total umami! This spice blend is so earthy and deep – it works beautifully in any beef marinade.
INGREDIENTS
1 lb beef tenderloin cubed
2 Cups Cremini mushrooms, small (approx 15-20 mushrooms/cleaned with caps whole and stems removed)
¼ Cup Brandy
2 Tbsp Worcestershire sauce
1 Tbsp brown sugar
2 Tbsp butter
2 tsp fresh thyme
2tsp Rather Than Flowers spice blend
½ tsp salt
½ tsp pepper
DIRECTIONS
Preheat the oven to 450.  Prepare a baking tray with non-stick spray or parchment paper.
Cube tenderloin in equal size cubes, about 15-20 pieces. In a small bowl, add the brandy to the steak cubes, stir to coat and allow to marinate for 10-15 minutes.
While meat is marinating, combine Rather than Flowers, fresh thyme, salt and pepper in a shallow dish.
When the meat is done marinating, remove it from the bowl (reserve the liquid) and dredge each piece of beef in the dry mix.
Heat a heavy-bottomed frying pan over med-high heat, melt the butter and sear the beef on all sides. 1-3 minutes (adjust depending on how rare – well-done you like your beef).  Transfer the beef to a plate. Turn the heat on the pan down to medium.  Add the Worcestershire sauce and brown sugar to the reserved marinade liquid and add to the pan along with the mushroom caps.
Stir until the mushrooms are tender, glazed and no liquid remains (about 3 minutes).  Remove from heat and allow to cool slightly.
Thread each toothpick with a mushroom cap and 1 cube of beef- place on a baking tray.
Bake in oven until heated through, about 5 minutes. Transfer to serving platter and top with some fresh thyme. Serve warm.