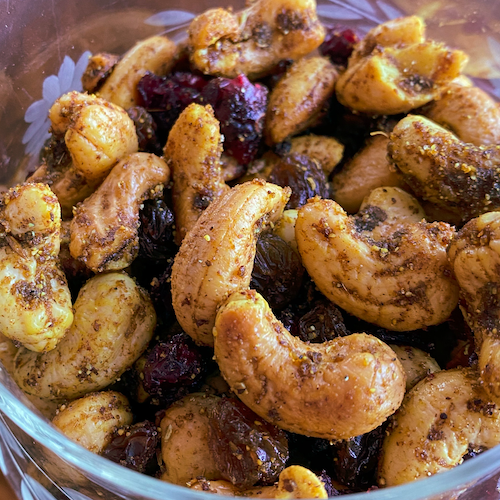 Curry Trail Mix
The interplay of the sweet, tart flavour of the dried cranberries, combined with the savoury curried cashews, makes for a sophisticated twist to trail mix. Add a little flair to your afternoon snack, pack this up for your next snowshoe, or toss it on top of your salad.
INGREDIENTS
2 Cups of Cashews, unroasted and unsalted
1 Tbsp Olive Oil
2 tsp Brick Lane Takeaway
1 tsp Garlic Powder
1 tsp Worchestershire sauce
½ tsp Cumin, freshly ground
Salt to taste
⅓ Cup Raisins
⅓ Cup Dried Cranberries
A dash of Cayenne *Optional
DIRECTIONS
Preheat your oven to 350° and line a baking sheet with parchment paper or foil.
In a medium-sized bowl whisk together the oil, Brick Lane Takeaway, garlic powder, cumin, cayenne *if using and Worchestershire sauce. Toss the cashews in the oil to evenly coat.
Spread the nuts out on the baking sheet, and bake for 10 – 15 minutes. Remove from the oven to cool.
Once cooled, put the roasted cashews into a medium-sized bowl, add salt to taste. Then add the raisins and dried cranberries.