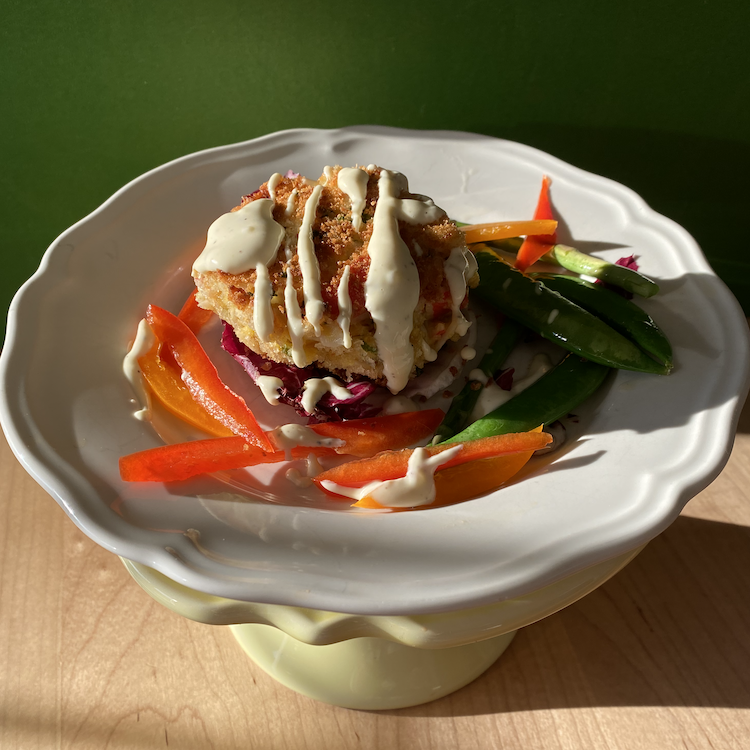 Crab Cakes with Lime Pepper Crema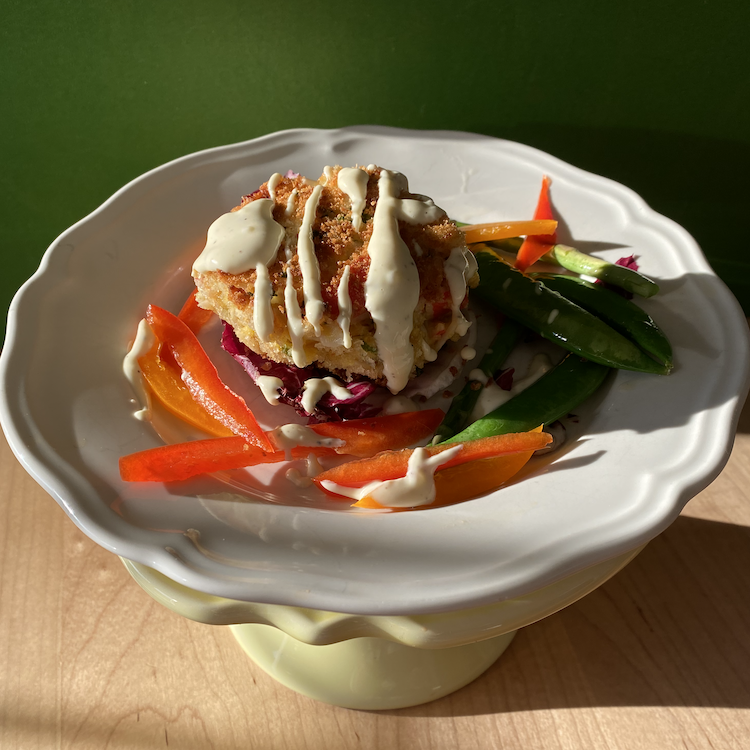 This is a really tasty dish to make and makes for the perfect warm, summer evening together with a crisp white wine.
You can make it with real crab (ideal!), but it works well with the imitation crab, too.
Prep time 10 (+ 1hour inactive)
Cooking time 15 min
Serves 4
Ingredients – Crab Cakes
450 g crab meat
1 Tbsp parsley, chopped finely
1 Tbsp cilantro, chopped finely
1 pinch nutmeg
10 crackers, crumbled (Ritz Crackers or Saltines work well)
¼ cup mayonnaise
1 tsp DSF Mustard powder
1 tsp Lime Pepper
1 egg, beaten
½ cup Panko bread crumbs
1-2 Tbsp canola or avocado oil
Ingredients – Lime Pepper & Mustard Sauce
2 Tbsp mayonniase
2 Tbsp sour cream
½ tsp Lime Pepper
1 tsp water
½ tsp Sriracha *optional
Directions – Crab Cakes
Combine crab meat (don't worry if there are clumps) with chopped herbs, nutmeg, and crackers. Add mayonnaise.
Beat egg and add ½ tsp Lime Pepper. Add to crab mixture.
Leave in the fridge for 1 hour to let the flavours infuse the crab meat. (Make sauce while waiting.)
Form into 4 equal-sized crab cakes, and dredge in Panko crumbs.
Heat oil in a skillet at medium-high heat. Cook the crab cakes for 7-8 minutes a side. (You may want to adjust heat once they are golden brown, so they don't overcook.)
Place on a paper towel to remove any excess oil. Serve with Lime Pepper & Mustard Sauce on vegetables, or with a side salad. (It's quite tasty when combined with our Low Carb Rice Salad!)
Directions – Lime Pepper & Mustard Sauce
Mix all the ingredients together, except the water.
Add water a little at a time, until the consistency will work well as a drizzle, but not be too runny or wet.
Set in the fridge until crab cakes are ready.
Drizzle over crab cakes when serving.